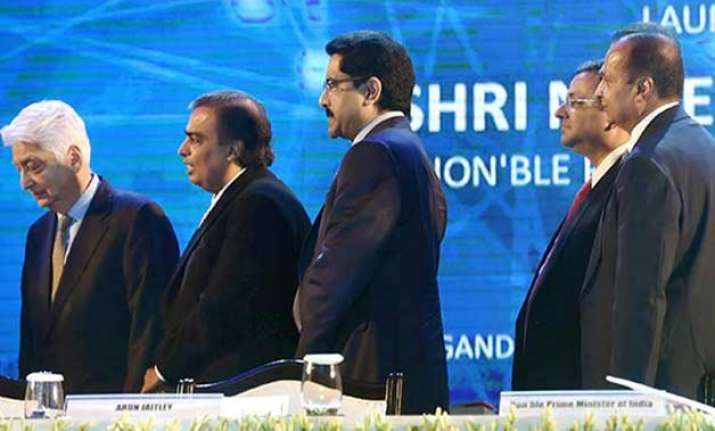 New Delhi: Top business houses yesterday committed to invest over Rs 4.5 lakh crore for the Modi government's ambitious 'Digital India' campaign to provide telephony and fast internet for all, with more than half of the promised investments announced by Mukesh Ambani alone.
The Reliance Industries Chairman was joined by top industry leaders like Sunil Bharti Mittal (Rs one lakh crore), Kumar Mangalam Birla (USD 9 billion or about Rs 54,000 crore), and Anil Agarwal (Rs 40,000 crore) with large investment announcements.
His younger brother Anil Ambani, Chairman of Reliance Group, also announced an investment of Rs 10,000 crore to expand businesses across digital, cloud and telecom space.
The launch ceremony of Digital India week by Prime Minister Narendra Modi, at the packed Indira Gandhi Indoor Stadium, was attended by who's who of India Inc, as also top executives of a number of foreign companies, who committed huge investments in creation of infrastructure and setting up of manufacturing units.
"E-Governance is going to change into M-Governance... M is not Modi Governance, it is mobile governance," the PM said with a smile, sketching a broad roadmap in his 27-minute speech of how he plans to digitise India.
PM Modi spoke of the need to boost local manufacturing of electronics - the country's largest import after oil. "Why can't we make quality electronic goods that are globally competitive?" he said in a speech to a packed 14,000-seater indoor stadium.
The investments announced today will also lead to creation of 18 lakh jobs, IT and Telecom Minister Ravi Shankar Prasad said at the event.
Reliance Industries Chairman Mukesh Ambani pledged an investment of over Rs 2,50,000 crore in rollout of wireless broadband infrastructure and manufacture of mobile handsets.
The company is working with leading device manufacturers encouraging them to Make in India smartphones and internet devices at an affordable price, he said.
Bharti group Chief Sunil Mittal said his group will invest more than Rs 1 lakh crore in the next five years in networks and deeper infrastructure for taking 4G connectivity to the masses, e-health and taking e-education in every village.
The company will also collaborate with various manufacturers around the world to start manufacturing in the country to provide electronic products at the most affordable and reduce the burden of electronics import in this country.
Aditya Birla group, which owns the country's third largest mobile operator Idea Cellular, will invest USD 7 billion over the next five years in network rollout, broadband and wi-fi deployment, its Chairman Kumar Mangalam Birla said.
Besides, he also announced a USD two billion investment over the next five years specifically for Digital India plans.
(With inputs from agencies)