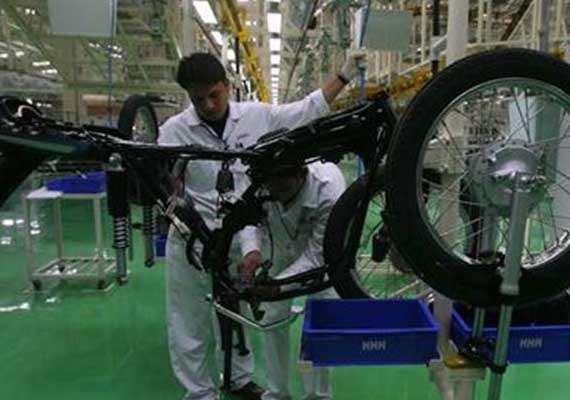 New Delhi, Jan 15: Workers at two-wheeler major Hero MotoCorp's Gurgaon plant have demanded a hike in monthly wages of up to Rs 18,000 over a three-year period, which is nearly three times higher than what the company is offering as part of a wage settlement agreement.
The nearly 1,200 permanent workers, under the aegis of Hero MotoCorp Workers Union (HMCWU), are observing silent protest by wearing black badges and not taking tea and snacks provided by the company to press for their demand.
They have, however, ruled out going for any strike or slowdown in production in immediate future as negotiations with the company management is going on since August 2012.
"We are asking for a hike of about Rs 15,000-18,000 per month spread over a period of three years as cost of living in NCR is very high. However, the management is offering us around Rs 6,500, which was the hike for Dharuhera plant's workers during the three-year agreement signed in 2011," HMCWU President Kawalpreet Singh told PTI.
The union had submitted its demand in August last year and its representatives have been holding negotiations with the management since then, he added.
Asked if the workers would resort to strike, Singh said: "At present we are protesting very peacefully and silently by wearing a black badge while coming to work and we are not accepting company's tea and snacks. We do not have any plan to go for strike or slowing the output in near future."
He, however, said if the company does not pay heed to workers' demand, the union will decide its future course of action accordingly.
When contacted, a Hero MotoCorp spokesperson said: "We have been holding talks with members of the Union at our Gurgaon plant in an amicable and friendly atmosphere... Hero MotoCorp has always given top priority to the overall welfare and well—being of all our workers."