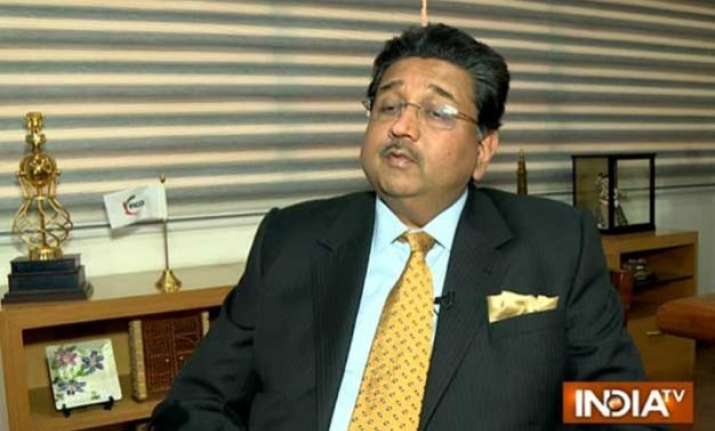 New Delhi:  Harshavardhan Neotia, the new President of FICCI (Federation of Indian Chamber of Commerce and Industry), is a man full of optimism. Despite all the challenges that Indian economy is facing presently, Neotia believes that a GDP growth of 8% is very much achievable in the next financial year 20016-17.
In an exclusive interview with indiatvnews.com, Neotia opened up on a wide range of issues that are crucial to the growth of Indian economy.
The new FICCI President does not believe that 'policy paralysis' has returned once again to haunt either the government or the industry. He points out that except for GST which has become a headline issue, we have witnessed action on many other fronts and it includes both administrative as well as legislative measures.  
On GST stalemate, Neotia agrees with Finance Minister Arun Jaitley that a delayed GST is better than a flawed GST. He exudes confidence that a political consensus will emerge soon on GST that will address concerns raised by everybody.
Interestingly, the new FICCI President believes that we should be ready for  some delay in legislation and decision making  because we have opted for the best way to govern India i.e. democracy which entails many voices and many conflicting ideas.
 
Here goes the full text of the interview:
HEALTH OF INDIAN ECONOMY
Q: What is your perspective on the state of health of Indian economy? Is the economy really growing by 7.4% as the data suggests or is it primarily because of the new GDP series that this government has introduced, as pointed out by the opposition parties?
H Neotia: Well, I would say we are not growing as fast as we want to grow but we are certainly growing. We are one of the brightest spots in the world, if you look at how things are, across the different countries. And I do see that we are moving towards 8% mark this year. We may not reach 8%, but we would be close to it. Therefore, in an overall sense, we are in the positive direction but we could always get there faster.
The new GDP series is more in line with the way the world calculates it. So, I think that's a good idea. What is actually the difference between the old series and the new series is hotly debated, whether there is 1-1.5% difference between the two. So let's not get into that. This is the comparable GDP basis for most of the economies in the world.
Q: There are at least 3 major areas of concern as far as Indian economy is concerned. Exports are falling, manufacturing sector is under-performing and private investment is not gaining pace. What is your reading of the problems that we are facing in these three crucial areas?
H Neotia: Let's look at the private sector first. The private sector had built up capacities on the basis of 7-8% growth that they had hoped to happen in last 5 years. It didn't happen. As a result, a lot of excess capacity got built up into the system. Now, it will take a few years to get back into investment cycle because once you built up capacity and you are unable to use it, naturally, your profitability comes under stress as well.
There is an overhang of NPAs (Non-performing Assets) as we all know. That is another factor. The interest costs are high. RBI has taken some steps to moderate it but it has fully not been passed through from commercial banks to borrowers. So, I think all these things are some of the  factors that contribute to the private sector situation.
As far as exports are concerned, we are interlinked to the global economy. World affairs will certainly impact our own performance. As you can see, there has been cataclysmic fall in oil prices, from a high of $120 to $27. This is almost a disruptive kind of price-fall. It has given us some temporary advantage but naturally it has put a lot of countries under stress. So, all these factors will naturally impact the exports to some extent. I think the government is taking some measures to see that we can shore it up. I do hope and believe that India has competitiveness in many areas. So we should be able to do it reasonably well.
Coming to manufacturing sector, it's not that it is not performing. It's not throwing up profits because the economy has been moving slowly over these years. It has only started picking up, of late. So, it's going to take some time by when the capacity that we have built up will get utilised. And when these capacities get utilised, the prices will hopefully firm up a little bit and that will allow the companies to have better margins. And that will then allow them to have investment surplus. So, it's all part of the economic cycle we all have to go through. Some ups and downs do happen and this down has been a little longer drawn and we are certainly feeling the pain of it.
Q: Do you have specific suggestions to boost the exports?
H Neotia: Not specifically for exports but generally for the economy.  We have recommended that they should continue with the public investment that they have been doing, particularly roads, railways have taken off pretty well. There are other areas like defence where a lot of 'Make in India' is to happen in the country. We, of course, want GST to be rolled out as quickly as possible.  I'm sure it will bring in much better compliance and also add some numbers to GDP. More than anything, it will unify India as one market instead of being fragmented as it is presently. We also feel that disinvestment should carry on. Banks need to be recapitalised as they have an overhang of NPAs. These are some of the suggestions we have made.
Q: In the run up to the general elections, a lot of expectations were raised regarding economic reforms in the country. Are you happy with the pace of economic reforms undertaken by Modi government?
H Neotia:   The way I would answer this is that I'm happy with the direction of the reforms. We can always argue the pace and industry would feel that you can do more but we have to remain mindful of the fact that we live in a democracy. In a democracy there are many voices, many conflicting ideas. And we have chosen that because we all believe that democracy is the only right way to govern our country.
Having said that, we do believe that there is an overall convergence that reforms are necessary, that the economy has to grow, and that India is having an opportunity to find its place in comity of nations at the top table.   There is a general consensus across political parties on all of this and hopefully, we will find solutions but yes, there will be some delays in this process.