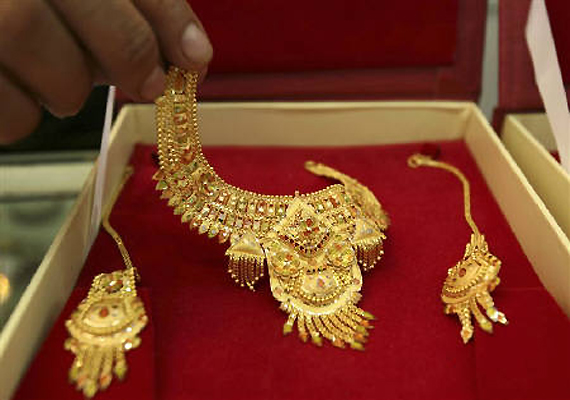 New Delhi, Mar 16: Gold today rose by Rs 450 to Rs 28,140 per 10 grams today, as stockists created fresh positions to meet seasonal demand, triggered by proposals to hike import duty amid a firming global trend in the Budget 2012-13.

Silver followed suit and jumped up by Rs 300 to Rs 56,500 per kg, as industrial units purchased more on fears of price rise in the coming days.

Traders said the bullion market is shocked on budgetary proposals to hike import duty for the second time this year on standard gold bar and coins exceeding and unbranded ornaments.

They said the upsurge was further supported as gold in overseas markets spurted, raising fears of more rise in the prices.

The government will tax gold bars and coins and platinum at 4 per cent, Finance Minister Pranab Mukherjee said in his Budget speech in Parliament today. The government had set 2 per cent duty on January 17.

There was no change in the tax on silver. "The hike in import duty will only make gold expensive for the retail customers and encourage illegal supply into the country," said Surender Jain, general secretary of All India Sarafa (Bullion) Bazar.

He said traders will pass-on the proposed hike in duty to customers which is likely to reduce demand.

The move came close on the heal of a firming trend in global markets as easing Greece sovereign debt crisis erased demand for the metal as a haven buying. In New York, gold rose by USD 13.50 to USD 1,657.30 an ounce.

On the domestic front, gold of 99.9 and 99.5 per cent purity shot up by Rs 450 each to Rs 28,140 and Rs 28,000 per 10 grams, respectively. Sovereigns were up by Rs 50 to Rs 23,400 per piece of eight grams.

Silver ready rose by Rs 300 to Rs 56,500 per kg and weekly-based delivery by Rs 160 to Rs 57,300 per kg. Silver coins spurted by Rs 4,000 to Rs 71,000 for buying and Rs 72,000 for selling of 100 pieces.