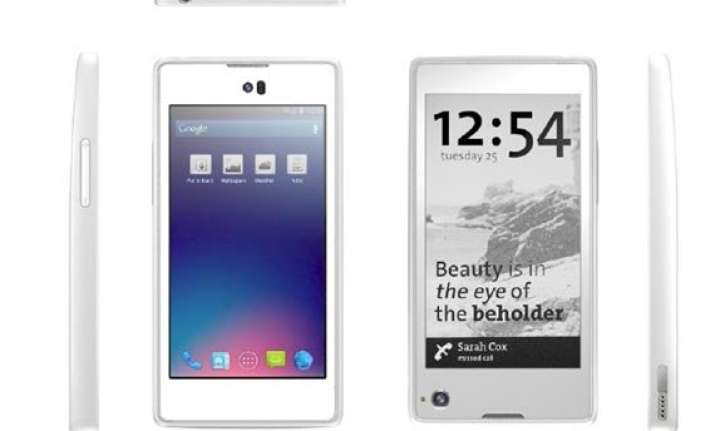 New Delhi: Jumbo Electronics, a leading IT, telecom and consumer electronics retailer and distributor in the UAE, has tied up with Flipkart to launch the dual-screen smartphone YotaPhone in India. The device is priced at Rs 23,499, and will go on sale on Flipkart on October 17.
YotaPhone is a new concept in mobile communication and is an 'always-on' Android smartphone. It has a liquid crystal display on one side and an electronic paper display on the other.
The device has been developed by Yota Devices, a private international company which develops and produces LTE devices such as smartphones, modems and routers.
By including a second screen that uses electronic paper display (EPD) technology, users have access to the information they want and need on a continual basis without having to wake up their phone. The technology also preserves smartphone battery power, said the company in a press note.
The Yota C9660 features a 4.3-inch HD 720p front display and a 4.3-inch E-Ink back display with 640 × 360 pixels resolution.
The handset is powered by a 1.7 GHz Snapdragon dual-core processor with 2GB of RAM. It has 32GB internal storage. It has a 13 MP rear camera with LED flash along with a 1MP front camera. It has an 1,800mAh battery. Connectivity options included in the YotaPhone are LTE support, Wi-Fi and Bluetooth 4.0. It runs on Android 4.2.2 Jelly Bean.
"Yota Devices combines a smartphone and e-reader into one device for those who enjoy reading on-the-go even in the brightest sunlight. You can save images and information on the second screen, and it stays there, even if you lose battery power. You can save anything on the always-on display from a map to a boarding pass. Information, like a missed call or meeting reminder, stays on the always-on screen until it is no longer needed," said Abdul Karim Sawan, Vice President for Yota Devices.
Yota Devices developed patented software to allow information to be shared and used between YotaPhone's two screens. It has also developed a number of innovative applications that come preloaded onto YotaPhone.