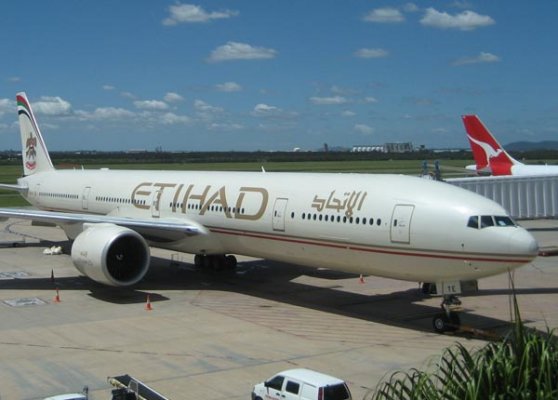 Mumbai: Jet Airways' foreign equity partner, UAE-based Etihad, has dropped its plan to lease three Boeing 777 aircraft from the airline, putting the domestic carrier in a difficult situation, sources said.
These aircraft, B 777-300 ERs, were with the Turkish Airlines and have recently come back to Jet Airways after completing the lease period, an airline source told PTI here.
"Etihad had earlier sought to lease these aircraft as it wanted to deploy them on its international network. However, it has now indicated to the airline of not doing so," the source said.
Jet Airways now may deploy these planes in its long-haul operations, they said, adding that this is a big set back to the airline which is already grappling with several other issues including problem from its pilots.
Jet Airways did not respond when its comments were sought on the issue.
Naresh Goyal-promoted Jet has already leased out some of its aircraft -- Airbus 330-200s and Boeing 777-300ERs -- to Abu Dhabi-based Etihad Airways, which had picked up 24 per cent stake in the Mumbai-based carrier for over Rs. 2,060 crore last year, making it the first FDI in the domestic aviation sector.
Jet was earlier planning to induct these wide-bodied planes to its international operations. However, after Etihad's proposal, it shelved the plan at that time.
Jet Airways spokesperson at that time had said the airline will take measures which will help it achieve profitability.
"We continually evaluate option with a focus on profitability," the Jet Airways had said in a statement.
It had announced in August that it aims to turn profitable in the next three years and was planning a major overhaul of its fleet and products.
India's second-largest airline Jet Airways had reported a standalone net loss of Rs. 217.65 crore for Q1 FY 15, down 39 per cent from the year-ago period.
The airline has been facing a tough time from its pilots as well as the regulator DGCA for quite some time now.
DGCA had recently suspended two Jet pilots after issuing notices to 131 pilots for not meeting mandatory licensing requirements.
The airline has over 1,000 pilots, while its subsidiary JetLite has about 190 pilots.