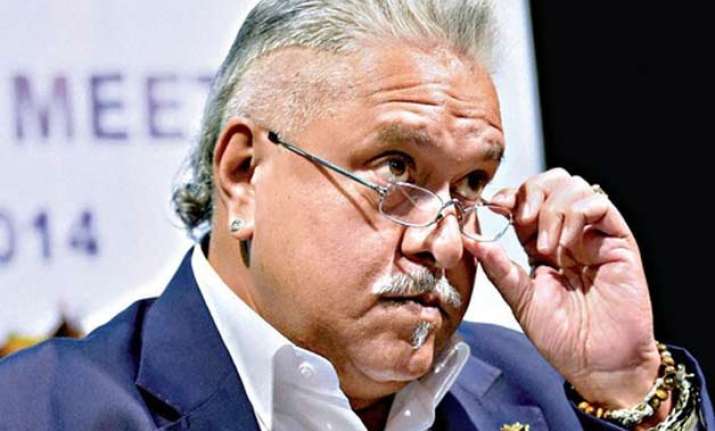 New Delhi: In a move that could spell more trouble for beleagured liquor baron Vijay Mallya, the Enforcement Directorate(ED) today registered a frrsh money laundering case against him based on an FIR filed by the Central Bureau of Investigation in relation to a loan default of over Rs 900 crore from IDBI Bank. 
The case relates to a CBI complaint in the matter filed a year ago. The ED, which has now filed charges against Mallya and others in the matter under the Prevention of Money Laundering Act (PMLA), is also likely to question Mallya to ascertain whether money taken from banks as loan was diverted offshore.
According to official sources, while the ED's zonal office here has registered the case, sleuths are also looking at the overall financial structure of the now defunct Kingfisher airlines and a separate probe under foreign exchange violation charges could also be initiated.
"Mallya and others will soon be questioned. The agency has collected relevant documents from concerned authorities and the bank in question," they said.
The CBI had booked Mallya, director of Kingfisher Airlines, the company, A Raghunathan, Chief Financial Officer of the airlines, and unknown officials of IDBI Bank in its FIR alleging that the loan was sanctioned in violation of norms regarding credit limits.
The CBI action came as part of its wide probe into criminal aspects of loans declared to be non-performing assets by public sector banks.
The ED is looking into the "proceeds of crime" that would have been generated using the slush funds of the alleged loan fraud, they said. Sources say that the agency will also be looking into the possibility of kicbacks being paid to bank or government officials by Mallya in order to secure the loan. 
While a DRT order is expected in this case today, ex-Kingfisher airlines employees have also gone public against Mallya and the company alleging they have been cheated of their remuneration and service benefits.
Under fire for his alleged role in the huge unpaid loans of now defunct Kingfisher Airlines, Mallya on Sunday blamed the media for spoiling his reputation, saying that a "disinformation campaign" was being played to make him a "poster boy" of all bad loans. He said that he was making efforts to reach a 'one-time settlement' with banks through additional payments to the lenders, even as he denied "personally" being a "borrower or judgment defaulter". 
Recalling that Kingfisher was launched in 2005 on the basis of viable business plan vetted by SBI Capital Markets and international aviation consultants, Mallya admitted that despite every effort, the airline was an unfortunate commercial failure caused by macro-economic factors and then government policies.
"The truth about Kingfisher Airlines and its financial stress due to external factors has been reported by State Bank of India (SBI) to the Reserve Bank of India (RBI) in their letter dated 31st January 2012," he said in the statement.
Mallya's statement comes ahead of the Debt Recovery Tribunal's order on the four interlocutory applications (IAs) the SBI moved on March 2, seeking his arrest, impounding his passport, disclosure of his assets in India and abroad and first claim to the $75 million deal he had signed with British liquor major Diageo plc on February 25 for resigning as chairman of its Indian arm United Spirits Ltd (USL). The tycoon also said he would move to Britain to be with his family.
When the tribunal reserved its order on Friday and posted next hearing to Monday, the SBI filed a writ petition in the Karnataka High Court as a lead bank of a consortium of banks, seeking same relief it sought from the tribunal. On this, the court issued notice to Mallya and others for response by this week.
A consortium of 17 state-run and private banks loaned funds of Rs.7,800 crore to Kingfisher, a public firm, but these loans were secured by blue chip securities.
After the airline's closure in 2012, the banks and their assignees recovered an aggregate of Rs.1,244 crore from sale of pledged shares since April 2013, he said.
In addition, an aggregate of Rs.600 crore is lying deposited in the Karnataka High Court since July 2013 and Rs.650 crore of United Breweries Holdings has been deposited there since early 2014, being sums realised from proceeds received by the UB Holdings from sale of shares in United Spirits to Diageo in July 2013.
"Thus, the aggregate cash recovery/security available is Rs.2,494 crore," Mallya claimed in the statement.
Observing that a disinformation campaign had made him a poster boy of all banks' NPAs (non-performing assets) despite pledging blue chip securities and depositing unspecified amounts in court, Mallya said banks have NPAs of Rs.11 lakh crore and borrowers owe much more than Kingfisher.
"None of these large borrowers have been declared wilful defaulters, but unfortunately, UB Holdings and I have been declared wilful defaulters by certain banks on technical grounds. I have legally challenged these declarations," he said.
Clarifying all inquiries found no evidence of misappropriation of funds by his defunct airline or himself, he said hence allegations and innuendo to this effect were false.
"My group invested Rs 4,000 crore into the airline which stands impaired - it is not as though it is only the bank debt that has suffered. Banks will recover a substantial part of their debt - my groups loss is permanent," Mallya noted.
Lamenting for being painted as an absconder, Mallya said he had been a non-resident for around 28 years and the RBI had acknowledged this in writing.
"Over the years, I have built businesses in India and abroad. I am also honoured to be a member of the Rajya Sabha (from Karnataka for the second time)," he added.