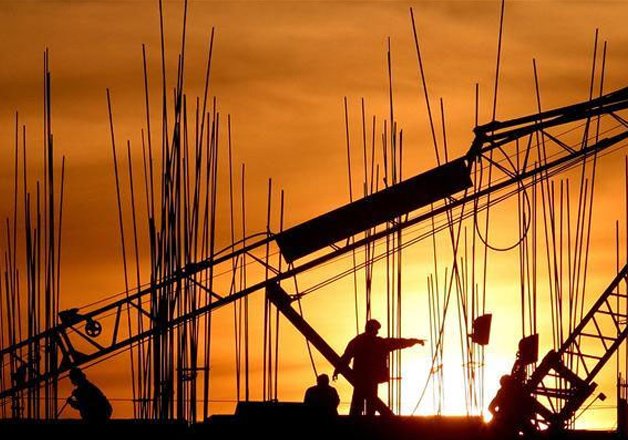 New Delhi: Union Finance Minister Arun Jaitley today presented the Economic Survey in Parliament. The survey for 2015-16 presents an optimistic picture of Indian economy amidst volatility in the international economic environment.
The survey underlined that country's economic growth is amongst the highest in the world, predicting GDP growth rate for 2016-17 in the range of 7 to 7.75 per cent.
It also said that government will meet its fiscal deficit target of 3.9 per cent of GDP.
The report said increase in wages recommended by the 7th pay commission not likely to destabilise prices and will have little impact on inflation.
The survey said major public investments have been undertaken to strengthen the country's infrastructure.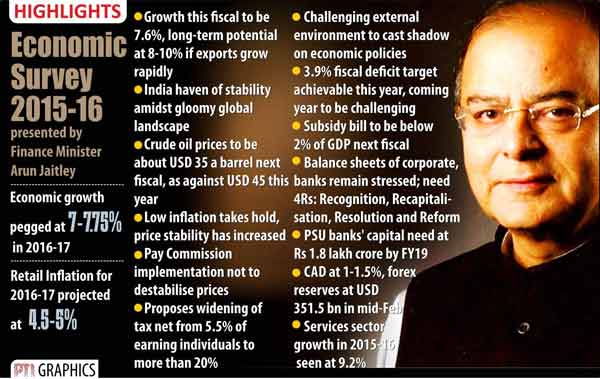 Here are the highlights of Economic Survey 2015-16:
* GDP growth next fiscal to be between 7-7.75%
* Growth this fiscal to be 7.6%, long-term potential at 8-10% if exports grow rapidly
* India haven of stability amidst gloomy global landscape
* Crude oil prices to be about USD 35 a barrel next fiscal, as against USD 45 this year
* Projects retail inflation at 4.5-5% for 2016-17
* Low inflation takes hold, price stability has increased
* Pay Commission implementation not to destabilise prices
* Proposes widening of tax net from 5.5% of earning individuals to more than 20%
* Challenging external environment to cast shadow on economic policies
* 3.9% fiscal deficit target achievable this year, coming year to be challenging
* Subsidy bill to be below 2% of GDP next fiscal
* Concerned over delay in GST Bill
* Balance sheets of corporate, banks remain stressed; need 4Rs: Recognition, Recapitalisation, Resolution and Reform
* PSU banks' capital need at Rs 1.8 lakh crore by FY19
* Current account deficit at 1-1.5%, forex reserves at USD 351.5 bn in mid-Feb.
* Services sector growth in 2015-16 seen at 9.2%
* Suggests revival of domestic demand as foreign capital outflow likely
* Sees good performance by industrial, infrastructure, corporate sectors due to recent reform
* More investment in health, education; focus on agriculture
* Government tax revenues to be higher than budgeted
* Exports slowdown to continue; pick up in next fiscal
* India should resist protectionist measures in trade
* Suggests reform package for fertiliser sector.