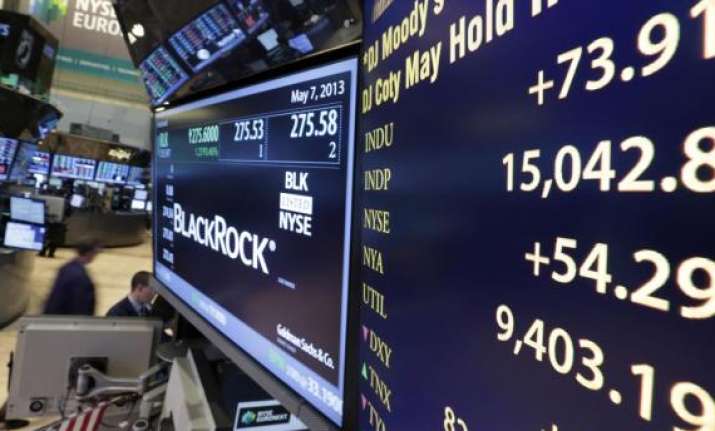 New Delhi: U.S. stocks fell Friday, closing out what was the worst week of the year for the Dow Jones industrial average.
The market was dragged lower by a weak performance from retailers and companies sensitive to higher interest rates. Homebuilders and banking stocks were among the best performers.
Stocks had a decent start to the week, but investors were hit hard the last three days. The Dow retreated 2.2 per cent for the week, its worst in 2013. The broader Standard & Poor's 500 index lost 2.1 per cent for the week, its second-worst performance of the year.
The possibility of a cutback in the Federal Reserve's massive bond-buying program in September has roiled the bond market, which has spilled over into stocks. The yield on the benchmark U.S. 10-year Treasury note rose to 2.83 per cent, its highest level since July 2011. A week ago, the yield was 2.58 per cent.
"When yields are going up like this, that's scary for most equity investors," said Brian Reynolds, chief market strategist at Rosenblatt Securities.
Rising bond yields have a direct impact on the cost of borrowing for everyone — from home owners trying to refinance their mortgages to companies trying to sell debt - making them a potential long-term drag on the economy. The Federal Reserve bond-buying programs were designed to keep the cost of borrowing as low as possible.
On Friday, the S&P 500 lost 5.49 points, or 0.33 per cent, to 1,655.83. The Dow fell 30.72 points, or 0.2 per cent, to 15,081.47 and the Nasdaq composite lost 3.34 points, or 0.1 per cent, to 3,602.78.
Shares of utilities and telecommunications companies, which typically perform poorly in a higher interest-rate environment, closed broadly lower. New York-based utility Consolidated Edison Inc. fell 75 cents, or 1.3 per cent, to $56.64 while California's PG&E was down 71 cents, or 1.6 per cent, to $42.64. Verizon Communications Inc. and AT&T Inc. fell 1.7 per cent and 0.5 per cent, respectively.
Stocks such as utilities, pharmaceuticals and telecommunications are often purchased because they provide a higher-than-normal dividend. As Treasury yields rise, it makes all dividend-paying stocks less attractive to investors because Treasuries can provide a similar return with significantly less risk.
"You try to focus on stocks that usually benefit from higher interest rates -- banks are a good example," said John Fox, who oversees $873 million in assets as co-manager of the FAM Value Fund.
The Dow has fallen 3.7 per cent from its all-time high of 15,658.36 two weeks ago. Even so, the blue-chip index is up 15 per cent this year while the S&P 500 has climbed 16 per cent.
"Keep it in perspective — we're down modestly from what was an all-time high," Fox said.
Retailers continued their multi-day selloff. Nordstrom Inc. gave a bleak sales outlook late Thursday that echoed similar forecasts from Wal-Mart Stores Inc. and Macy's Inc. earlier this week. The outlooks have raised worries that U.S. shoppers might be pulling back on spending.
Nordstrom's stock fell $2.90, or 4.9 per cent, to $56.43, making it the biggest decliner in the S&P 500.
The retail industry is a closely-watched part of the U.S. economy as consumer spending makes up roughly 70 per cent of economic activity. The disappointing outlooks are worrisome because they take into account the back-to-school shopping season, typically the second-biggest shopping period for U.S. retailers.
"It's left us scratching our heads," Fox said. "It really forces you to ask the question: 'is the consumer slowing down?'"
Investors have also been concerned about what will happen to the stock market -- and the U.S. economy -- if the Fed begins winding down its $85 billion-a-month bond-buying program in September. Some investors think that the Fed's program has been a large contributor to the stock market's record run.
"The big question is, will the Fed eliminate the bond-buying program in September, and, if so, how they will they remove the bond buying," said Frank Davis, director of sales and trading for LEK Securities.
With the bond market declining and stocks selling off, investors shifted into a safer asset — gold. Its price rose $10.1, or 0.7 per cent, to $1,371. Gold had its third-best week this year, rising 3.7 per cent.
Also in focus were homebuilders. The government reported that new home construction was up 6 per cent in July to a seasonally-adjusted rate of 896,000.
Shares of homebuilders PulteGroup Inc., and Lennar Corp. closed up 2.3 per cent and 1.8 per cent, respectively.
Housing has been one of the bright spots of the U.S. economy for the last several months. In June, home builders sought the most building permits for single-family homes in five years. New-home sales jumped in June to their highest level in five years as well.
In other news, personal computer maker Dell Inc. reported a 72-per cent drop in its fiscal second-quarter earnings. That may help convince Dell shareholders to approve the $24.8 billion buyout proposed by founder Michael Dell. and private-equity firm Silver Lake.
Shares of Dell rose 12 cents, or 0.8 per cent, to $13.82 - below the proposed buyout price of $13.88 per share.