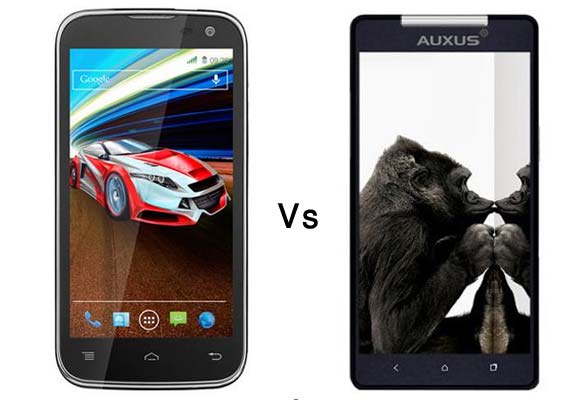 New Delhi: Hong Kong based handset maker iBerry's latest smartphone Auxus Nuclea N1 is a mid-end Android smartpohone sporting a 5-inch Full HD 1080p, 1920 x 1080 resolution One-Glass Solution display with Active Matrix technology. It is also equipped with a MediaTek MT6589T Quad core Turbo 1.5GHz processor and a PowerVR SGX 544MP GPU clocked at 357MHz for the graphics. With 1GB of RAM, iBerry Auxus Nuclea N1 also boasts some other features such as Gesture control, Voice Unlock, Magnetic sensors etc. It comes with a 2800mAh Li-ion battery which runs on Android 4.2 Jelly Bean.
On the other hand, Xolo Play T1000 is a budget smartphone running on the Tegra 3 chipset. The handset comes with a 1.5GHz Tegra 3 quad-core mobile processor, with 12-core GeForce GPU along with 1GB of RAM. The smartphone has a 4.7-inch 720p IPS display and the smartphone runs on Android 4.1 Jelly Bean. The rear of the device has an 8MP BSI camera with the ability to shoot video in Full HD and the front has a 2MP video-calling camera.
Let us do a detailed specification comparison of these two smartphones:
Design and Build Quality
Xolo Play T1000 measures 138.4x70x10.4 mm and weighs about 167gms. On the outside it looks like a regular smartphone with an all-black exterior. The front panel is all glass and there are three LED backlit buttons for Home, Back and Menu on the front end of the phone. The rear panel comes with a rubber finish, which helps gripping the phone while using it. The power and volume rocker take their place on the right side while the micro USB and audio ports are on the top. The unit seems to be a tad heavier and thicker than most new smartphones.
On the other hand, iBerry's first android based smartphone the Nuclea N1 is 9.6 mm thick and amazingly light weight at 120 grams. The design of Nuclea N1 is clean and smooth, making it look premium. It has slight curves on the corners that goes well with the overall design of the handset. This 5-incher sporting Corning Gorilla Glass 3 protection also stands successfully against scratches from roughly pointed metal object.
Winner: iBerry Auxus Nuclea N1