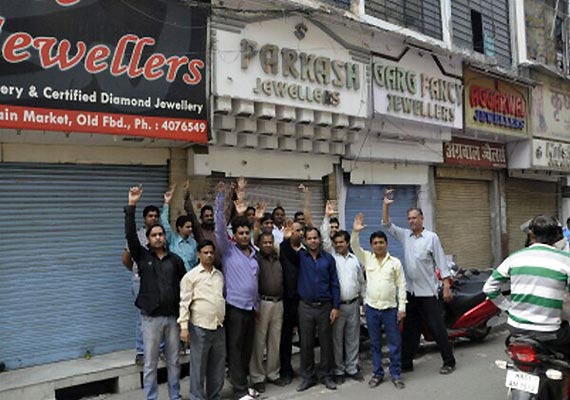 New Delhi, Mar 20: The protest by gold and jewellery traders entered the fourth day today even as Finance Minister Pranab Mukherjee justified the hike in customs duty on gold saying its imports cause strain on balance of payment and impacts rupee's exchange rate.
After observing strike for the past three days, gold and jewellery traders last night annouced extension of stir for another two days.
Bullion traders have been on strike since March 17 to protest the hiking basic customs duty on gold import and imposition of excise on unbranded jewellery.
All-India Sarafa Association President Sheel Chand Jain said, "The industry has already lost turnover of nearly Rs 3,000 crore so far."
Meanwhile, Finance Minister Pranab Mukherjee today justified the hike in customs duty on gold on the floor of Rajya Sabha.
"The import of gold of such magnitude strains balance of payments and affects exchange rate of rupee through impacting supply-demand balance of foreign exchange," Finance Minister Pranab Mukherjee said in the Rajya Sabha during Question Hour.  
In a letter to Finance Minister demanding roll-back of the proposals, All India Sarafa Association had said that the proposed increase in import duty would lead to smuggling of gold.  
"The proposed increase in import duty will lead to unchecked smuggling of the metal," the letter had said.  
In an interview to PTI, Mukherjee on Sunday had said that the pressure tactics of bullion dealers "will simply not not work".
Rejecting the argument of bullion dealers that the levies would encourage smuggling, the Finance Minister had said that import duty of upto five per cent did not not encourage smuggling.
The All-India Gems and Jewellery Trade Federation (GJF) Chairman Bachhraj Bamalwa had said that the small jewellers are irked with the proposed levy of excise as they do not understand the legalities of it.
Amongst major locations, markets in Chennai were the only one to open today but recorded thin volumes.
Meanwhile, jewellers from Saurashtra region have also supported the move of extending the strike by two days.  
"The jewellers in Saurashtra region were on a three-day strike from March 18, following a call given by the All India Gems and Jewellery Trade Federation. Now, these jewellers have decided to extend the strike for two more days," Rajkot Gold-Dealer Association President Bhayabhai Saholiya said.  
Yesterday, jewellers in various cities in Saurashtra had taken out rallies and submitted memorandums to the concerned district authorities, demanding a rollback of the tax.
India's gold and silver imports during first 11 months of the current fiscal stood at USD 54.5 billion. It had imported gold worth USD 40.5 billion and silver worth USD 1.9 billion in the last fiscal.