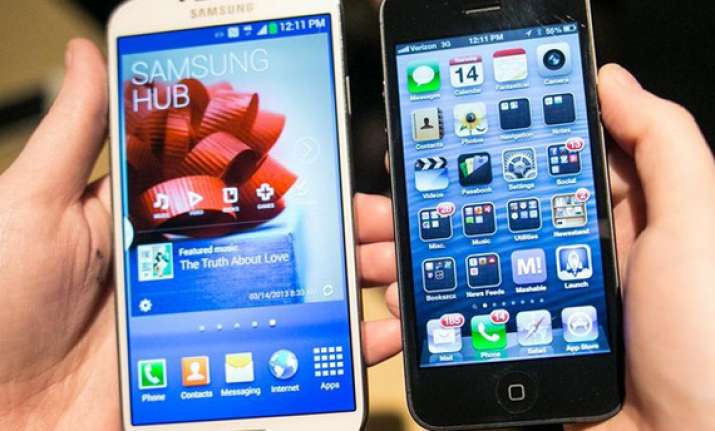 New Delhi: It is no surprise that Samsung Galaxy S4 is probably the best Android smartphone produced by the Korean electronics giant till date. Cumulative channel sales of Samsung's flagship Galaxy S4 smartphone have reportedly reached the 40 million unit mark. The S4 shares the same curved shape, chrome-effect border and the familiar home buttons, like the S3. The new phone is more compact and pocketable than its predecessor, and it is also sturdier.
The Galaxy S4 is a spec and feature-rich smartphone, limited only by its cheap and flimsy hardware. At a first glance, the S4 looks near-identical to the Galaxy S III, with both being constructed almost entirely of plastic. To compete against the best (like HTC One, iPhone 5, BlackBerry ZTE, Lumia 925, Sony's Xperia Z), Samsung has loaded it with some interesting and never-seen-before features.
While the processor type will vary by region and model, versions sold in the U.S. come equipped with a 1.9GHz quad-core Snapdragon 600-series CPU with 2GB of RAM. In benchmark testing, it delivered performance gains over the HTC One and iPhone 5. The 5-inch full HD display of S4 with 1,920 x 1,080 resolutions delivers a pixel density of 441ppi far ahead of the most of its peers. One of the drawbacks of Super AMOLED, of course, is that colors can appear oversaturated at times, but ultimately it's a matter of preference. Despite powerful features, the Galaxy S4's battery life is exceptional, making it through a day's use without having to recharge.
On the other hand, the iPhone 5, although a few months older than the Galaxy S4, continues to attract smartphone buyers due to its high-end specifications and the quality promise of Apple. In the premium segment, without question, the latest iPhone is still one of Galaxy S4's fiercest rivals.
Here is a list of 10 things that the S4 can do, while the iPhone 5 can't:
1. A built-in infrared blaster
The Galaxy S4 is the first Galaxy handset to feature a built-in infrared blaster, and Samsung puts it to good use. With the combination of Samsung's WatchOn app and the third-party Peel, the Korean firm has created a single service that allows users to navigate their TV guide and control a television or set-top box all from within a single app.