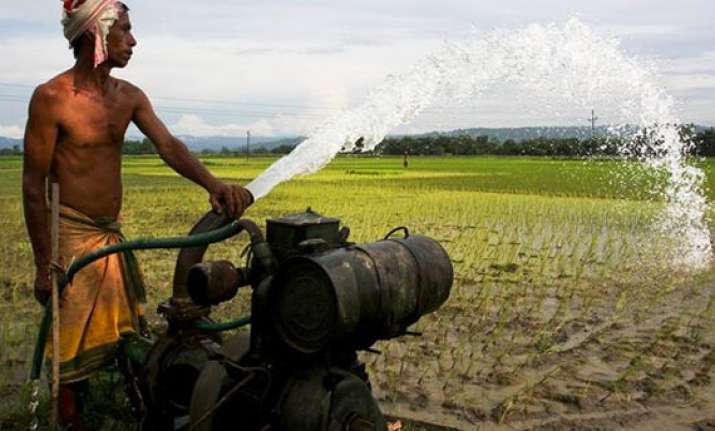 New Delhi: Faced with a drought-like situation and high food prices, the government today announced a Rs 1,000 crore scheme to boost irrigation and also set up Rs 500 crore price stabilisation fund to rein in food inflation.
In his maiden Budget speech, Finance Minister Arun Jaitley retained the agriculture credit target of Rs 8 lakh crore for this fiscal set in the interim Budget.
He also said the current scheme of interest subvention of 3 per cent for timely repayment of farm loans will continue. Expressing concern over huge farm lands still dependent on monsoon, Jaitley said "there is a need to provide assured irrigation to mitigate risk."
"To improve access to irrigation, we propose to initiate the scheme 'Pradhan Mantri Krishi Sinchayee Yojana'. I propose to set aside a sum of Rs 1,000 crore," he said.
Noting that price volatility in the agriculture produce creates uncertainties and hardship for farmers, he said Rs 500 crore will be provided to set up a Price Stabilisation Fund.
On the lines of Indian Agricultural Research Institute (IARI), the government will establish two more such institutions of excellence in Assam and Jharkhand with an initial sum of Rs 100 crore this fiscal, Jaitley said.
He also proposed Rs 200 crore for setting up of two agri-universities in Andhra Pradesh and Rajasthan and two horticulture universities in Telangana and Haryana.
In addition, he said Rs 100 crore would be set aside to establish an 'Agri-Tech Infrastructure Fund".
Expressing concern over deteriorating soil health, he said the government will launch a scheme with an outlay of Rs 100 crore to provide to every farmer a soil health card.
An additional Rs 56 crore will be provided for setting up 100 Mobile Soil Testing Laboratories across the country.
To tackle the adverse impact of climate change on agriculture, the government proposed to allocate Rs 100 crore under 'National Adaptation Fund' for this purpose.
It also proposed to set aside Rs 50 crore for the development of indigenous cattle breeds and an equal amount for starting a blue revolution in inland fisheries.