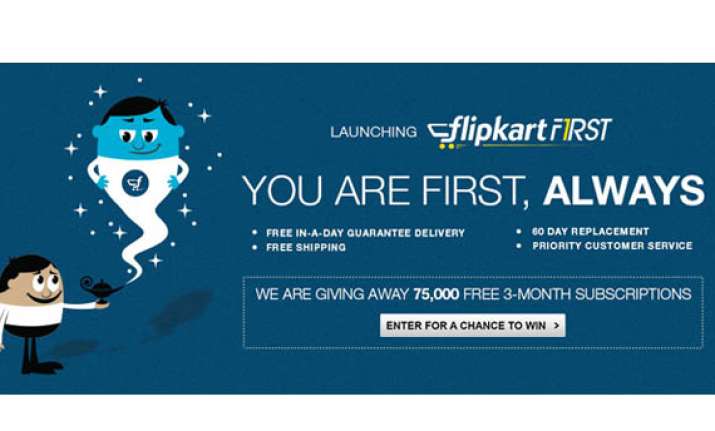 New Delhi: Flipkart has introduced Flipkart First - an annual subscription service for frequent shoppers. The service aims at rewarding registered shoppers along with enticing new ones. Notably, the Flipkart First service is similar to the Amazon Prime premium subscription service in the US.
The online retailer says Flipkart First service members will get access to priority customer service with minimal waiting period. Unfortunately, it has not revealed pricing details of its Flipkart First service. 
Flipkart says the paid annual subscription will offer customers unlimited access to In-a-Day Guarantee delivery; free standard delivery with no minimum purchase price; Same-day Guarantee delivery at a discounted price, and a bonus 60-day replacement guarantee, instead of the usual 30-day period.
Similarly, Amazon Prime service its US customers a free two-day shipping on orders with no minimum order size. It even gives access to unlimited instant streaming of movies and TV shows with Prime Instant Video (available in US) and free books every month via Kindle First and the Kindle owners' lending library. Amazon Prime annual subscription service is available at $99 (Rs. 6,000 approximately) for one year.
According to the company, it will select 75,000 customers, on a random basis on May 20, and offer a free 3-month subscription to the service.
The official Flipkart First page notes that the benefits on the annual subscription are only applicable for purchases from WS Retail, as of now.