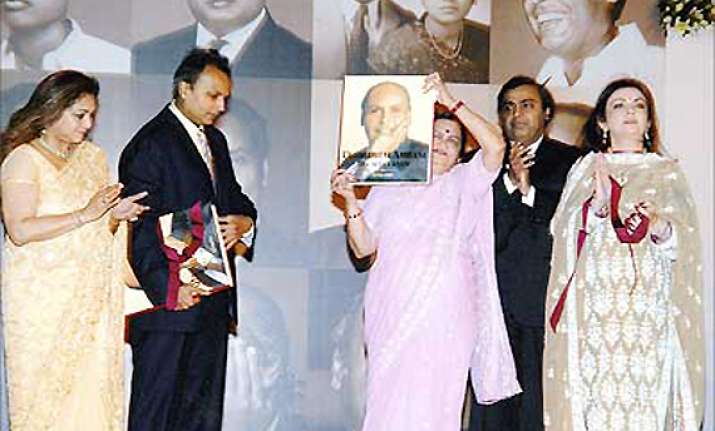 Chorwad (Guj), Dec 28: The billionaire Ambani brothers today appeared to signal that their bitter rivalry may end as they prayed, danced and ate together at a two-day family reunion to mark the 80th birth anniversary of their father Dhirubhai at this small Gujarati village.

The entire Ambani family, including Mukesh and Anil, has been here together for the last two days to inaugurate a memorial for Dhirubhai Ambani, the legendary industrialist and founder of Reliance Group.

The Chorwad house where Dhirubhai lived before leaving for Eden (now Yemen), has been transformed into a memorial, which was inaugurated by by the Ambanis' family guru Ramesh Oza (Bhaiji) in the presence of Kokilaben Ambani, her two sons and two daughters and other family members.

A few years after Dhirubhai's death in July 2002, the two brothers had parted ways and formally split the business empire in 2006 after months of bitter rivalry and public spat.

After the split, Mukesh took control of flagship Reliance Industries with interests in mostly energy and textiles businesses, while the younger sibling Anil got telecom, power, entertainment and financial services among others.

The family reunion in Chorwad, in Junagarh district of Gujarat, took place after more than a year after the two brothers agreed in May 2010 to end their disputes and work together for an environment of harmony, cooperation and collaboration between their groups.

Soon after arriving here on December 26, family matriarch Kokilaben had said that the two industrialist brothers had no differences between them and they are together now.

"There are no differences or ill-feelings between Mukesh and Anil. Both the brothers will come to Chorwad with their families tomorrow (December 27)... This is our family function and entire family will be present at the function," Kokilaben had said.

Asked about the reported discord between Mukesh and Anil, Kokilaben had said: "There is love between the two brothers.  That is why, they are coming together."

The family had last time congregated in Chorwad about 15 years ago in 1996, when a grand feast was organised for the villagers in the presence of Dhirubhai.

Talking to mediapersons, Group President of Reliance Industries, Parimal Nathwani told reporters today that the Ambani family took part in a 'havan' (ritual) yesterday and the reunion culminated with 'raas-garbha' (dance) played at the Chorwadi temple premises.

"This was completely a family function and therefore no friends were invited," he added.

"The entire Ambani family got emotional at the inauguration of the memorial, which is nothing less than a Bharat Ratna type of fitting tribute to the patriarch Dhirubhai Ambani," he added.

He said it was significant that a memorial in his name came up at a place, from where Dhirubhai began his career as a young entrepreneur, while noting that a memorial in the name of an industrialist is unheard in this part of country.

"The spiritual guru Ramesh Oza will also deliver a one hour discourse, which shall be attended by the Ambani family," he said.

The memorial is the same place where Dhirubhai spent his childhood. A rented section of the bungalow, then called 'Mangarolwalo Delo', was the place where he lived.

Dhirubhai had later purchased the bungalow in 2002 which is now renamed as 'Dhirubhaino Delo'.