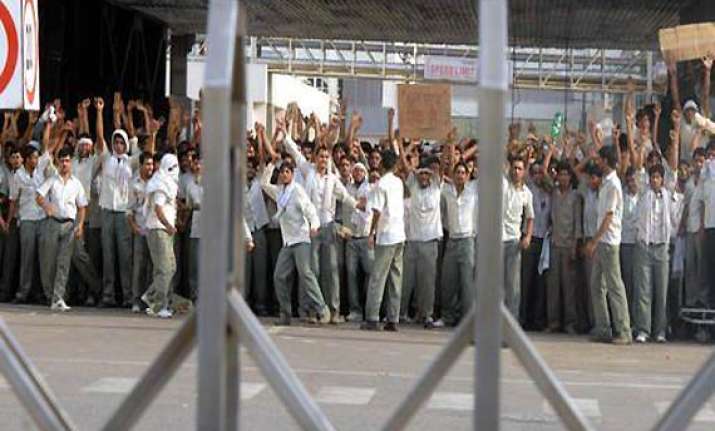 New Delhi, Dec 23: A year that began with a bang only to fizzle out in the end with car sales posting the steepest fall in nearly 11 years; a year marred by strikes—2011 will be one that the Indian automobile industry would like to forget in a hurry.

At a time when sales were hit badly by higher interest rates on automobile loans and costlier fuel, crippling labour disputes affecting firms like Maruti Suzuki, General Motors and MRF made the industry hit the headlines for all the wrong reasons.

Nevertheless, one of the major milestones for the year for the industry was the launch of a new brand identity by the B M Munjal-led Hero Group, following the break-up of erstwhile Hero Honda, and announced its strategies for a solo journey without former Japanese partner Honda. 

The year gone by also witnessed some exciting new model launches, including Hyundai's 800-cc car Eon, and some intense moments between the West Bengal government and Tata Motors on the return of land in Singur following the relocation of the Nano plant.

Yet when it came to sales, it was a case of gravity finally catching up with the zooming sales that were witnessed in the previous year. After bidding adieu to 2008-09 slowdown and posting robust growth of over 25 per cent last fiscal, it is now likely to see a low, single-digit increase in vehicle sales in 2011-12.

Indian car sales hit an all-time monthly high in January, 2011, registering a jump of 26.28 per cent to 1,84,332 units.  However, with rising interest rates and fuel prices, the sales started moderating during the year.

With rising inflation, RBI started increasing the key policy rates, leading to a hike in interest rates on auto loans. It was a double blow for the auto industry as fuel prices, especially petrol, kept on rising throughout the year. 

Vehicle sales started falling again with the industry fearing a comeback of the ghost called 'recession'. 

The Society of Indian Automobile Manufacturers (SIAM) lowered its growth forecast for 2011-12 twice during 2011 after announcing it for the first time at the beginning of the fiscal. It is expected to revise it downward again in January on account of sluggish demand in the last couple of months. 

On a year-on-year basis, car sales in India have been declining since July, mainly due to the severe impact of labour issues on Maruti Suzuki India's (MSI) production. 

Sales registered their steepest monthly decline in nearly 11 years in October this year, tanking by 23.77 per cent on account of a huge drop in output by MSI due to labour trouble, coupled with high interest rates and fuel prices. 

The car segment, however, witnessed a turnaround with 7 per cent growth in sales in November on account of a marginal revival in demand, coupled with a low base. Sales in December are likely to be lower than the November numbers, SIAM said. 

Labour strikes, which hit the country's largest car-maker Maruti Suzuki India severely, did not spare other auto-makers either. MSI suffered a total of 60 days of production losses due to three instances of labour unrest at its Manesar plant, which mainly produces the Swift.

In June, a 13-day strike brought production to a standstill. This was followed by another standoff on August 29 between the management and the workers, which lasted for 33 days.