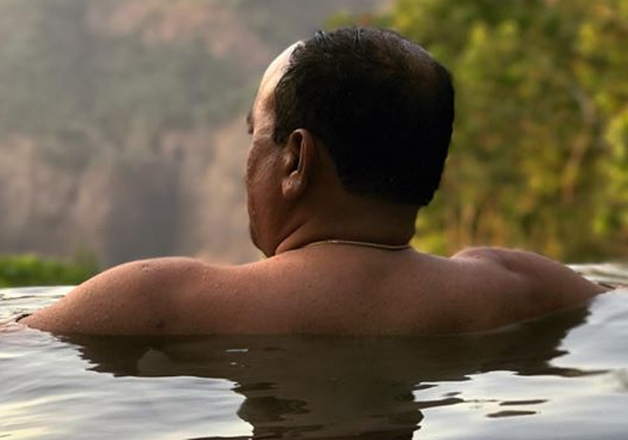 An uncharacteristically flamboyant photograph of Goa Chief Minister Laxmikant Parsekar baring his upper torso in a forest resort pool has gone viral on social media.
The image of Parsekar staring contemplatively into emptiness, from the infinity swimming pool was uploaded via the Chief Minister's official Facebook account late on Thursday night.
The normally conservatively attired leader had to endure a brief spell of trolling following the upload given the caption accompanying the photo, which was later edited.
The first caption, which accompanied Parsekar's now-viral photo, quizzed his followers playfully. "Relaxing after elections. Guess who? Guess where?"
However, this was enough for his critics to have a go at him.
"Soon u will rest forever," said Ankit Salgaonkar on his timeline. While others like Rahul Matias de Lemos suggested that the Chief Minister should "develop six pack abs".
Soon after the criticism, the photo caption was edited to read "Communing with nature. A refreshing experience".
Not all who commented were trolls though, with many well-wishers also stating that the brief holiday which Parsekar was currently enjoying along with his family was a deserving one, especially after a gruelling election campaign.
There were also others who wished him good luck in anticipation of a victory on March 11, when the votes polled for the state assembly were scheduled to be counted.