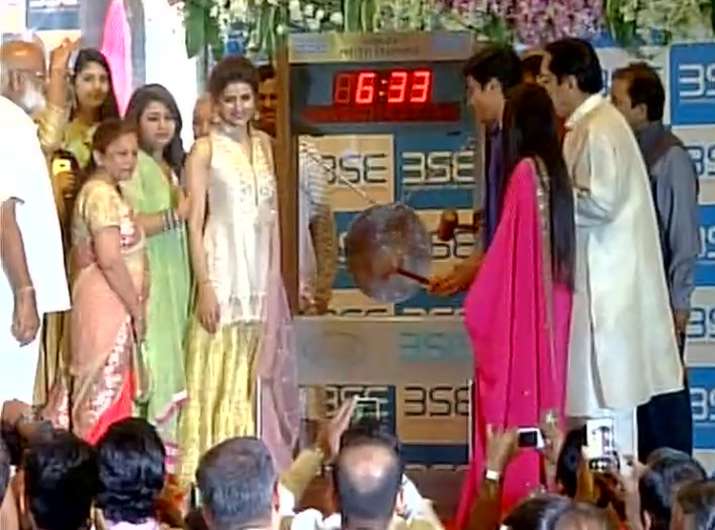 The Indian equity markets ceded their initial gains during the special "Muhurat" trade session on Sunday to close on a negative note with BSE Sensex ending over 11 points lower at 27,930.21. 
In an hour-long special trade session held to mark the start of Samvat 2073, Sensex opened higher to regain the 28,000-mark, advancing to a high of 28,095.71 on initial buying as investors and funds opened their new accounts on the first session of the Hindu New Year. 
The annual one-hour special session was held between 6.30 p.m and 7.30 p.m.
Its trade began on a positive note. However, caution ahead of key global events' risks, negative international cues and profit booking subdued investors' sentiments.
The 30-scrip sensitive index (Sensex) of the BSE which opened at 28,066.32 points, closed at 27,930.21 points (at 7.30 p.m.) -- down 11.30 points or 0.04 per cent from the previous day's close at 27,941.51 points.
The Sensex touched a high of 28,095.71 points and a low of 27,890.14 points during the intra-session trade.
In contrast, the BSE market breadth was tilted in favour of the bulls -- with 1,938 advances and 520 declines.
The 51-scrip Nifty of the National Stock Exchange (NSE) closed lower by 12.30 points or 0.14 per cent at 8,625.70 points.
"Lower global crude oil prices and negative global cues subdued the benchmark indices. However, mid-cap segment rose with healthy gains," Anand James, Chief Market Strategist, Geojit BNP Paribas Financial Services, told IANS.
The special trading session held every year on Diwali is considered to be auspicious for stock market trading. It is believed that the "Muhurat" trading on this day brings wealth and prosperity throughout the year.
This ritual has been observed for ages by the trading community.
On Friday, the last trading day, the equity markets had closed on a flat-to-positive note, even as negative global cues, foreign fund outflow and profit booking subdued investors' sentiments.
The barometer index inched-higher by 25.61 points or 0.09 per cent to 27,941.51 points, while the NSE Nifty gained 22.75 points or 0.26 per cent to 8,638 points.
In Samvat 2072, the barometer index had gained 2,074.56 points or 8.02 per cent, whereas the NSE Nifty had swelled by 813 points or 10.38 per cent.
(With IANS inputs)