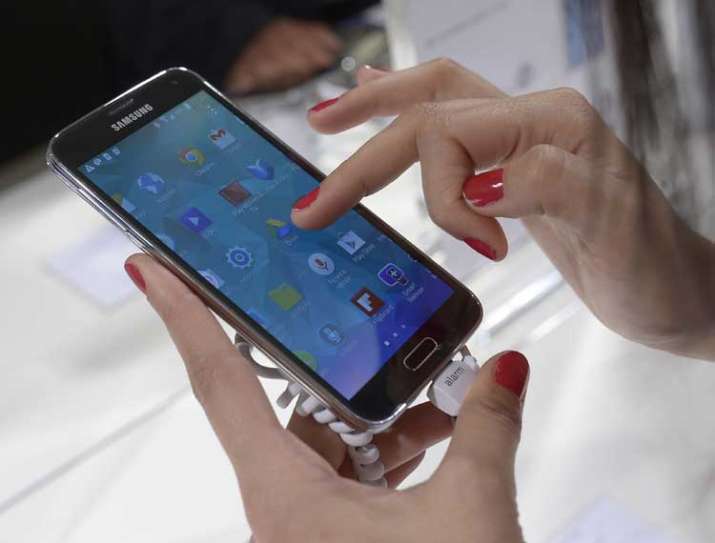 Indian mobile handsets' shipments are set to reach 265 million by the year end, of which 116 million will be smartphones, a report said on Monday. 
India shipped 197.5 million mobile handsets in the year so far, of which 78.4 million were alone shipped during the third quarter of the calendar year, according to market research firm CyberMedia Research's (CMR) "India Monthly Mobile Handset Market Review" report for third quarter of 2016. 
"All these years, smartphone makers have been focusing on making the handsets affordable for more and more hands-on experience. This has paid off well, but cannot promise continuous sustainable growth for smartphones in the country," Faisal Kawoosa, Principal Analyst for Telecoms at CMR said.  
"Time has come when the things need to be looked at holistically and increase the relevance of smartphones in the lives of wider user base. That will spur the era of next growth for smartphones," he added. 
Sixty-six per cent of the phones in third quarter were "Made in India". A total of 137 brands shipped mobile phones, of which 69 shipped smartphones.
Over 98 per cent of the smartphones were using Google's Android OS with more than 25 per cent came preloaded with Android Marshmallow operating system. 
"Every second 4G smartphone shipped during third quarter of this year, using third party chipset solution had a Qualcomm chipset. Sixty-six percent of the smartphones shipped were phablets," the report added.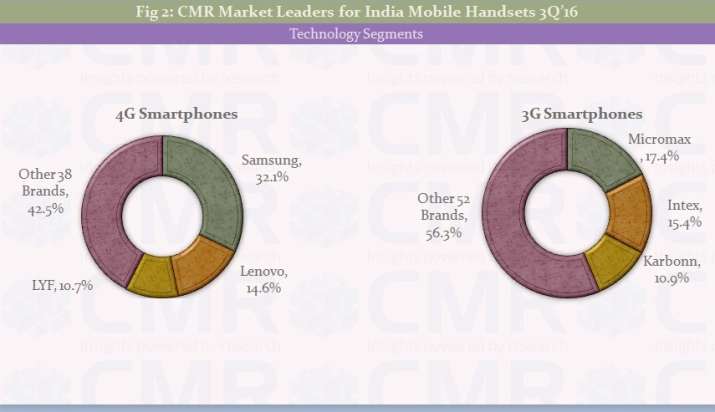 Nearly 64 per cent of the smartphones were quad-core, while 29 per cent had a processor with clock rate of 1.3 GHz. 
Samsung dominates the feature phone and smartphone market but its overall market share declined sequentially by four per cent even though it registered a record quarter in shipment volumes in the country.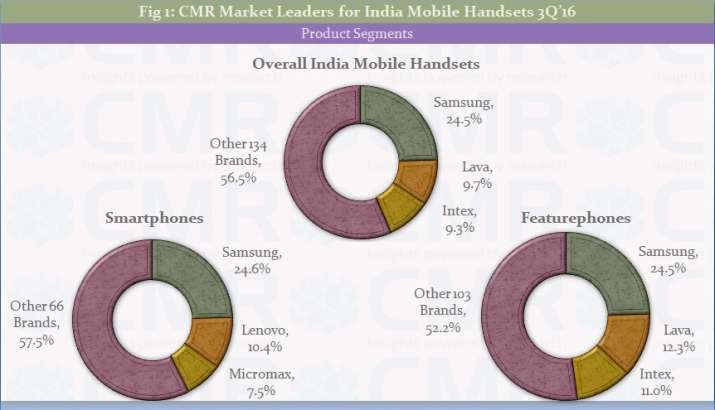 CMR's data shows that Samsung leads the way in terms of total mobile sets with 24.5 per cent of market share.   
In the 'Premium Smartphones segment (Rs 20,000 to Rs 50,000), Samsung has a 37.3 per cent market share followed by Chinese phone maker Oppo which has 26.5 per cent. OnePlus occupies the third spot with 9.3 per cent share.  
In the super-premium segment (above Rs 50,000), Samsung leads with 49.2 per cent market share, while Apple has 43.3 per cent of the market.   
Sony comes at number three but has only 5.3 per cent market share.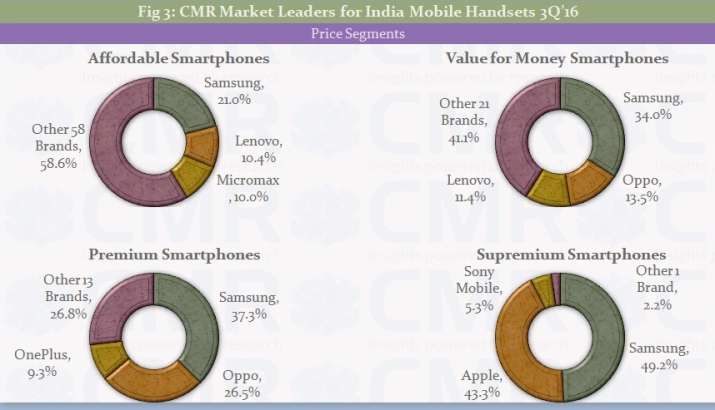 In the affordable smartphone market (below Rs 10,000) Samsung's market share is only 21 per cent followed by Lenovo with 10.4 per cent and Micromax at 10 per cent. 
In an another research done by CounterPoint recently, it was revealed that smartphone shipments in India grew 23 per cent annually in the third quarter of 2016 as compared to the global smartphone market which grew at five per cent. 
As per the report, the feature phone shipments grew two per cent year-on-year and 23 per cent quarter-on-quarter as feature phone to smartphone transition slowed down in recent quarters.