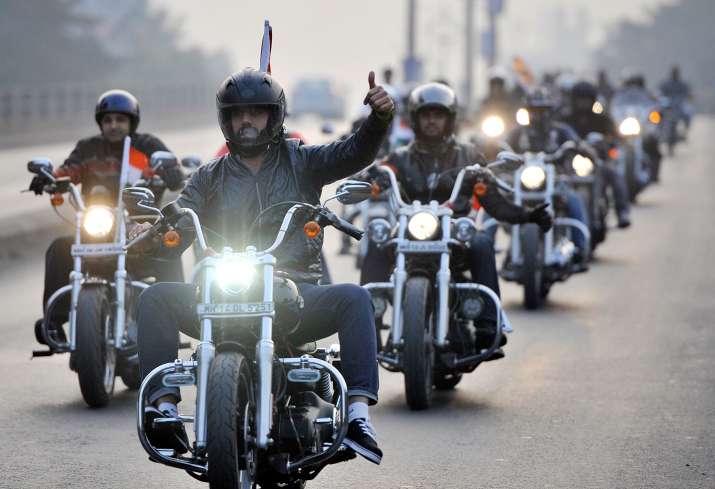 New Delhi: 'Live to Ride, Ride to Live', reads the Harley-Davidson slogan, and rightly so as a rising trend among Indian CEOs shows. After golf, the latest social networking hub for the corporate bigwigs seems to be revolving around superbikes with CEOs opting for their mean machines both as their therapy as well as de-stressing exercises. 
According to a report by ET, about 40 per cent of Harley-Davidson owners are from senior leadership positions such as chief marketing officers and chief financial officers. Similarly, among hundreds of Triumph customers, 80-100 are CEOs.
Not surprising since these machines aren't cheap and begin from Rs 5 lakh and go up 10 times and beyond.  CEOs are increasingly participating in rallies that are being conducted to take the riders away from the tensions of the C-suite - making friends and building a new social network in the process. 
"As CEOs you not only you get to connect with nature and unwind, but you connect with new people and their experiences. Motorcycling is becoming a new networking phenomenon," Vimal Sumbly, Managing Director at Triumph Motorcycles, India, said in the report.
Harley-Davidson India Managing Director Vikram Pawah describes that the Harley Owners Group, or HOG, as the original social network, was founded in 1983 when the Internet barely existed. 
Harley has 22 such groups across the country, each of them representative of the local riders and their culture. Likewise, Triumph has 12 such groups of RATs, or Riders Association of Triumph.
The report further revealed that Harley-Davidson sold 4,700 bikes in India in the year ended March 2016 versus 2.65 lakh worldwide in 2015. Triumph, on the other hand, sold 1,139 units in the financial year 2016. Analysts expect these numbers to double in the next four years, which means more top paid executives are likely to take their motorcycles on the road to redemption. 
And it's not just about distressing, as Vijay Bharadwaj, vice-president for human resources at Dell, puts it. Bharadwaj, who owns a Harley-Davidson Night Rod, says biking teaches one to be disciplined, fit, quick and flexible enough to be able to deal with various things in life.
George M George, MD of Muthoot Leisure and Hospitality Services, said that motorcycling is like meditation, and almost a spiritual experience.