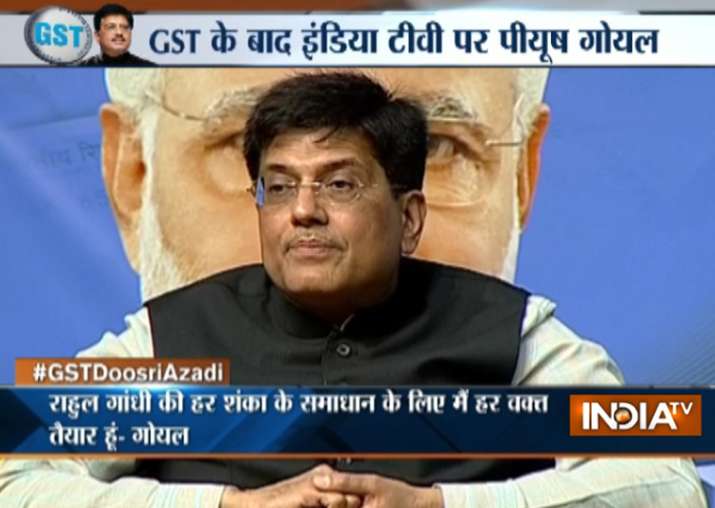 Union Power Minister Piyush Goyal today termed as 'unfortunate' the Congress and other political parties boycotting the midnight launch of the Goods and Services Tax (GST) that marks the beginning of a new era in the indirect taxation structure of the country.
Taking a jibe at Congress vice-president Rahul Gandhi for calling GST a 'half-baked' reform, the minister said that he was 'always ready to explain the Amethi MP about the GST, but let him return to India first'.
"I am ready to meet Rahul Gandhi and explain him about GST but let him come back to India first. I am always free to explain GST to him in a very simple language, so that he can understand" the Union minister said at 'GST Doosari Azadi', a special event organised by India TV following the launch of the new indirect tax regime.
More than 5000 open seminars have been conducted across country to educate the normal people about #GST: @PiyushGoyal #GSTDoosriAzadi pic.twitter.com/Xf9PeRw1wz

— India TV (@indiatvnews) July 1, 2017
"It is unfortunate that Congress disassociated itself from GST launch and termed it 'tamasha'," Goyal added. He was responding to senior Congress leader Jairam Ramesh's remarks that 'the government appropriated all credit after opposing it for 10 years and the manner it was launched was a 'grand selfie tamasha'. 
Goyal, however, noted that Ramesh had mentioned that the Congress party was not against the GST but it had some reservations with the event. "They (political parties who skipped GST midnight launch event) were not against the GST."
"GST is an outcome of a collective effort of all political parties," Goyal added quickly and appealed that people who oppose GST should look at it from a development perspective. 
Opposition parties including the Congress, RJD, DMK, TMC and Left skipped the midnight launch event. However, breaking all ranks, Janata Dal (United), BJP, Samajwadi Party, AIADMK and others were present at the historic Central Hall of the Parliament last night when President Pranab Mukherjee and Prime Minister Narendra Modi pressed a button to launch the new indirect tax regime on a digital screen with 'GST' emblazoned on it in a golden hue.
Lashing out at the Congress, Goyal said, "They are now only in 6 states. CMs and representatives from Congress-ruled states participated actively in the GST Council."
To a question related to multiple GST slabs, he replied, "Let people decide… is it pragmatic to slap one standard rate on poor and others who drive BMW?"
"GST will help poor. Government's prime focus was lower and middle class people," Goyal said.
Praising the Prime Minister for taking bold decisions, he said, "Moves taken by PM Modi have always been beneficial for the society, be it demonetisation, Swachch Bharat or GST."
"It is wrong to say demonetisation troubled people. In fact, people supported the government's decision," he opined.
He also accused a section of people of spreading rumours regarding difficulties in the implementation of GST. Goyal said that 'minsters and government officials are willing to help people and address their grievances'. 
"Rumours are being spread by few people. Everything is in the pipeline.... Small traders having turnover less than Rs 20 lakh are exempted. Traders between Rs 20 and Rs 75 lakh enjoy some rebate. I request you to approach the government offices to understand. If harassed or misinformed by few people, approach the government officials, we are willing to help you," Goyal said.
"Traders will have to maintain only one register – sales register. No other documents are needed to be maintained," Goyal replied to a question. "All returns will be generated automatically through the system that is in place."
Goyal said the new system will ensure that the honest taxpayers are benefitted and are free from harassment. "Honest tax payers were forced to cheat because traders indulged in corrupt practices," Goyal added.
He said when a person pays tax, he or she feels proud of working for the betterment of the poor and society.