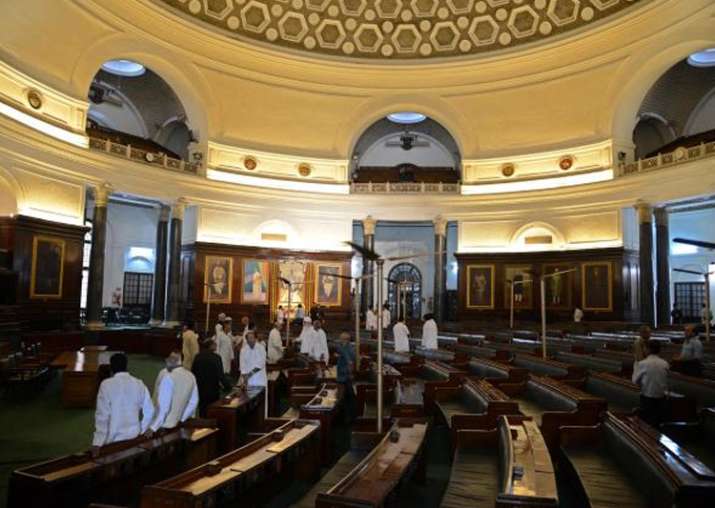 Preparations are on for the launch of the indirect tax regime -- Goods and Services Tax (GST) -- at the midnight of June 30 in the Central Hall of Parliament. The hour-long midnight event, that will evoke memories of the 'Tryst with Destiny' moment of 1947, will be attended President Pranab Mukherjee, Vice President Hamid Ansari, Speaker Sumitra Mahajan, Prime Minister Narendra Modi and former PMs Manmohan Singh and HD Deve Gowda and other ministers and leaders of political parties.
The 60-minute long event will be a sober affair and will be organised on the lines of the special midnight sessions held in Parliament in 1992 to commemorate 50 years of the Quit India movement and one to celebrate country's 50 years of Independence. 
"The preparations for the GST launch are exactly like that - like we do for joint sessions. During the 50th and 60th years of celebrations we had special sessions in the Parliament with speeches and screenings of films. Same will happen during the GST launch on June 30," an official told The Economic Times.
Parliamentary Affairs Minister Ananth Kumar has written to all MPs urging them to attend the function. The letter, dated June 19 addressed to all Lok Sabha and Rajya Sabha MPs, says the presence of the PMs will enthuse the citizens of the country towards GST and calls it the most significant economic reform since independence. 
The official informed that at least 600 people are expected to attend the event and arrangements to facilitate everyone is underway. Besides MPs, several government officials including members of the GST Council and state governments officials have been asked to come. 
"The launch will be done through a laptop. We have to ensure it is exactly at the stroke of midnight," he said. 
Former PMs Manmohan Singh and HD Deve Gowda will be on the podium when the launch happens, the report said, adding that both the President and the Prime Minister will speak on the subject and two short films on GST will be screened in the Central Hall.
Through GST, the government aims to create a single comprehensive tax structure that will subsume all the other smaller indirect taxes on consumption like service tax, etc. Touted to be a major game changer, the government has claimed that it will give a major push the country's economy.