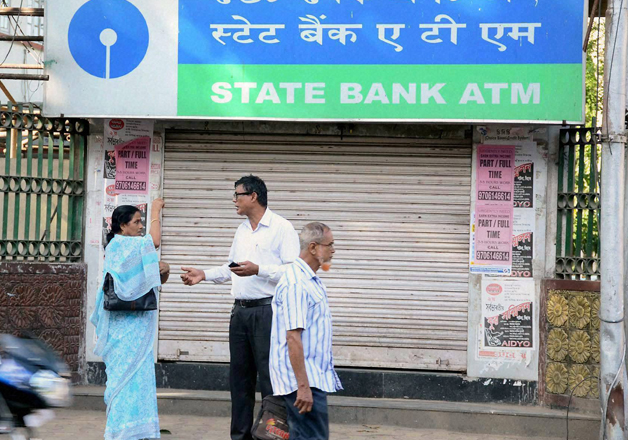 Despite a two-day break for stocking up new currency notes, several cash vending machines across the country are still not functioning, forcing people to rush to bank for cash.
People waited for hours to get the cash needed to meet their daily expenses as most prevalent higher denomination currency notes of Rs 500 and Rs 1000 were declared invalid.
ATMs, which reopened two days after Prime Minister Narendra Modi announced demonetisation of two biggest currency notes, had people queued up since early morning. But not all of them were operating and the crowds at many of the machines grew increasingly agitated on learning that they were still inactive.
This comes even as the government on Thursday said that people can withdraw the new series of Rs 500 and Rs 2,000 notes from the ATMs from Thursday midnight.
All ATMs across the country reopened today, two days after Prime Minister Narendra Modi announced the decision to scrap Rs 500 and Rs 1,000 notes.
It was expected that once the ATMs start giving out new currency from midnight, the queues before the banks and post offices that were witnessed entire day on Thursday will be eased.
#DeMonetisation : Huge crowd gathered outside Canara Bank in Delhi's Yamuna Vihar. pic.twitter.com/41D9zUStlk

— ANI (@ANI) November 11, 2016
In New Delhi's Connaught Place, several ATMs were out of order. Long queues were witnessed outside few ATMs which were dispensing cash. 
The situation was no different in Noida, Mumbai, Nagpur, Lucknow, Patna, Kolkata, Guwahati and southern cities. At least half km long queues were reported outside several ATMs in few cities. 
In Patna, people were seen standing in queues outside ATMs even as their shutter remained down. 
Uttar Pradesh: Long queue outside an ATM in Lucknow #DeMonetisation pic.twitter.com/3gckpfYWWG

— ANI UP (@ANINewsUP) November 11, 2016
People also complained about the Rs 2,000-a-day cap on ATM withdrawals till November 18. 
The other problem is that all old notes have not been pulled out from around a fourth of the two lakh ATMs across the country. And many have not been reconfigured to deal with the new Rs 2,000 bill.
SBI chairman Arundhati Bhattacharya yesterday said that it could take 10 days to complete reconfiguration.
Meanwhile, all banks will be working for 12 hours on Thursday, Friday, Saturday and Sunday to clear the rush of desperate customers for exchange transactions and, if required, remain open even next Sunday (November 20).
Yesterday, massive crowds lined up outside bank branches and trade remained sluggish across the country on as the government scrambled to ease the transition from old currency to new. 
"We have witnessed a more than three-time increase in footfalls at branches today and an over five-fold rise in the number of cash transactions," ICICI Bank MD Chanda Kochhar said.
At branches, the queues moved slowly as cashiers laboriously counted out notes of lower denominations adding up to either Rs 4,000 in case of an exchange, or Rs 10,000 in case of withdrawals. For many, waits of up to five to six hours were exercises in futility as branches ran out of cash.
While the largest private sector bank kept its branches open till 8pm, SBI said that some of its branches stayed open till 9pm. The SBI said that it was going to make most of its 7,000-odd cash deposit machines operational at midnight so that those with bank accounts could deposit Rs 50,000 and reduce the pressure on branches.
Banks such as PNB have suspended training courses for officers and employees and asked staff in administrative offices to be ready to be deployed to branches.
The deadline to exchange or deposit old notes at banks and post offices is December 31.