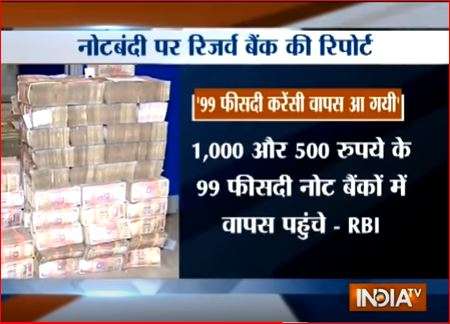 The Reserve Bank of India on Wednesday in its annual report disclosed that 99 per cent of demonetized currency notes returned to the banks post demonetization, and only one per cent, amounting to nearly Rs 16,000 crore did not return. 
Finance Minister Arun Jaitley sought to clarify that only these unreturned currency notes were not black money. 
Nearly Rs 3 lakh crore currency notes came back to the banking system, and along with this nearly two lakh shell companies were traced. Most of these currency notes were black money being held by shell companies. Jaitley also explained that another big benefit of demonetisation was that 56 lakh new taxpayers have joined the tax net. 
The real motive behind demonetization was (1) bringing black money back to the banking system (2) expanding the tax base and (3) switching the economy to digital mode. According to Jaitley, on all these three counts, the objectives were achieved.
Watch the full episode here:
Aaj Ki Baat: Monday to Friday, 9 PM
India's Number One & the most followed Super Prime Time News Show 'Aaj Ki Baat – Rajat Sharma Ke Saath' was launched just before the 2014 General Elections. Since its inception the show is redefining India's super prime time and is numerically far ahead of its contemporaries.