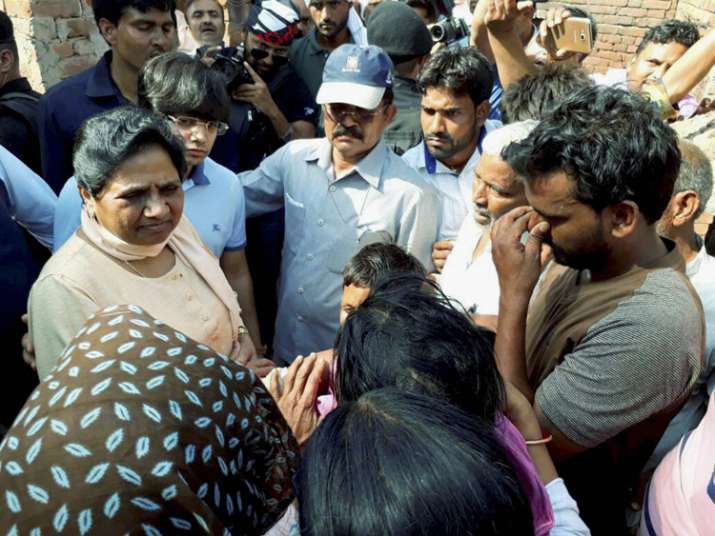 At least six persons were injured, one of them from gunshots, as caste tension flared again in Shabbirpur village and surrounding areas in Saharanpur district after BSP supremo Mayawati's visit.
Members of two communities again fought a pitched battle in which many were injured, soon after the Dalit leader concluded her visit and drove back to New Delhi after accusing the ruling Bharatiya Janata Party (BJP) of stirring the caste cauldron in the state. 
Some Dalits pelted stones at houses of members of the Rajput community and set one house on fire before the former Chief Minister's visit. The Rajputs retaliated and both clashed in Chandrapura village, neighbouring Shabbirpur, of Uttar Pradesh. 
One person sustained gunshot injuries.
Five others were injured by swords, two of them with critically, an official said. Additional police force was rushed to the scene of clashes.
Additional Director General of Police (Meerut) Anand Kumar rushed to the village, where fire tenders and Provincial Armed Constabulary were requisitioned from Shamli and Muzaffarnagar.
Thakurs in Shabbirpur village had prevented Dalit residents from installing a B R Ambedkar statue on the premises of a temple.
Later, on May 5, a Dalit group had objected to a procession of Thakurs to mark the birth anniversary of Rajput king Maharana Pratap, triggering violence, in which one person was killed and over 15 were injured.
BJP responsible for Saharanpur violence: Mayawati
BSP chief Mayawati today held the BJP-led UP government responsible for the violence in Saharanpur and alleged that the ruling party had failed to stop its own brigade from attacking weaker sections.
"The district administration of Saharanpur did not allow Dalits to install a bust of Ambedkar, while the procession to mark the birth anniversary of Maharana Pratap was taken out without any permission," Mayawati said during an interaction with media here.
"The Dalits just reacted to this discrimination," she said.
The former chief minister also suggested that Keshav Prasad Maurya, who was seen as a frontrunner for the post of chief minister during the UP elections, was later overlooked because of his caste credentials.
Maywati said the BJP frequently referred to B R Ambedkar merely for votes and had no genuine concern for either the Dalit icon or his followers.
"BJP leaders frequently refer to B R Ambedkar but the followers of Ambedkar are facing injustice. They refer to Ambedkar merely for votes. People will not accept such anti- Dalit party," she said.
The BSP chief pilloried the state government over the "deteriorating" law-and-order situation in the state, saying "the state government has failed to fulfill its constitutional duty of providing peace and security to the people of the state".
(With agencies)