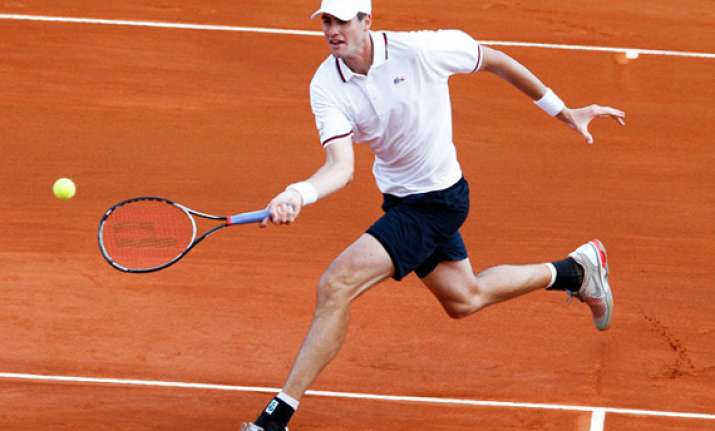 London, Apr 07:
John Isner further enhanced his reputation as a threat on clay with a straight-sets win over Gilles Simon on Friday to give the United States hope of an upset against France in the Davis Cup quarterfinals.
Isner, who beat Roger Federer on indoor clay in the first-round win in Switzerland, comfortably beat Simon 6-3, 6-2, 7-5 at the Monte Carlo Country Club to level at 1-1 against France after the opening day's singles.
The winner of U.S.-France looks set to face Spain in the semifinals after the defending champion took a 2-0 lead against Austria.
The other two quarterfinals between Czech Republic and Serbia, and Argentina and Croatia, are locked at 1-1 heading into Saturday's doubles.
Janko Tipsarevic pulled 2010 champion Serbia level against the Czechs after a stormy 5-7, 6-4, 6-4, 4-6, 9-7 win over Radek Stepanek.
Serbia captain Bogdan Obradovic had to pull Tipsarevic away from a confrontation with Stepanek after the two players shook hands at the net.
"After five hours and 10 minutes (on court), instead of shaking my hand, he gave me a middle finger, and told me that I'm a stinking, something bad..." said Tipsarevic, who had saved three match points.
"Unbelievable. I never ever thought that I would experience this. It's pathetic, nothing else."
Stepanek said they had shaken hands normally and Czech captain Jaroslav Navratil added: "Radek may have told him something, but I was too far from them."
With a dominant serve and strong forehand, Isner's game had until this season been considered more of a threat on quicker surfaces, but by following a four-set win over Federer in February with Friday's rout of Simon, the American indicated he could make a run during the upcoming European claycourt season.
"I woke up this morning feeling very good," Isner said. "I didn't know, but I had a feeling that today was going to be a good day for me. That was the case. Because of that, it was a pretty good day for our team."
Isner, a finalist at Indian Wells last month, leveled for the U.S. after Jo-Wilfried Tsonga put France ahead by beating teenager Ryan Harrison 7-5, 6-2, 2-6, 6-2 in the first singles match.
U.S. captain Jim Courier hopes the top-ranked doubles pair of Bob and Mike Bryan can give the visiting team a lead when they face the French pair of Julien Benneteau and Michael Llodra on Saturday.
"Tomorrow will be a great doubles match between four great doubles players," Courier said.
The Bryans are unbeaten in Davis Cup since losing to France in 2008, when Llodra was partnered by Arnaud Clement.
The U.S., which hasn't reached the semifinals since 2008, is playing without the fatigued Mardy Fish, while France is missing Gael Monfils. Several other Davis Cup quarterfinalists are also under strength as the top players take the opportunity to rest during a busy season, which this year also includes the Olympics.
Spain made light of the absence of No. 2-ranked Rafael Nadal by winning both the opening singles matches against Austria on clay in Castellon.
Nicolas Almagro easily beat Austria's No. 1 Jurgen Melzer 6-2, 6-2, 6-4 before David Ferrer made it 2-0 by routing 139th-ranked Andreas Haider-Maurer 6-1, 6-3, 6-1.
"I was a little surprised how easy it was for us today," Spain captain Alex Corretja said.
Serbia is missing No. 1-ranked Novak Djokovic, and got off to a bad start in the Czech Republic when Viktor Troicki was thrashed by Tomas Berdych, 6-2, 6-1, 6-2.
But Tipsarevic, who played a key role in Serbia's first ever title win in 2010, saved three match points against him in the fifth set before beating Stepanek.
Argentina almost had to do without Juan Martin del Potro when he vomited before his match against Croatia's Ivo Karlovic, but the former U.S. Open champion fought off the stomach problems and won 6-2, 7-6 (7), 6-1 after Marin Cilic outlasted David Nalbandian 7-5, 4-6, 6-4, 6-7 (2), 3-6 in the first match in Buenos Aires.
"I'm feeling sick, I was lucky to win," Del Potro said. "Right now I'm going to bed."