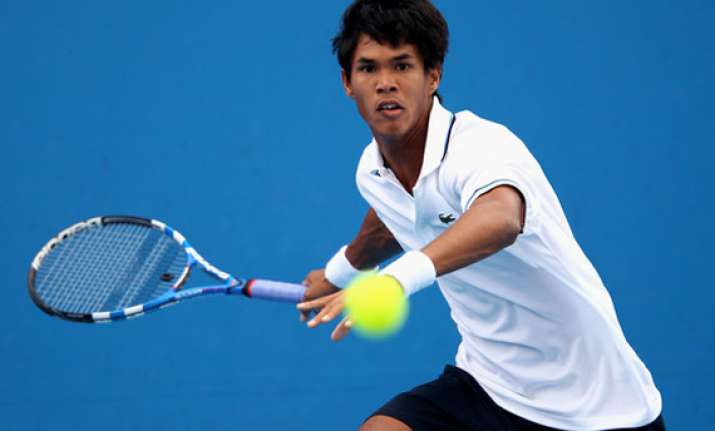 Chennai, Dec 27: Somdev Devvarman has struggled at the Chennai Open after his breakthrough year in 2009 but the Indian tennis ace is determined to improve his record at his home event though he admitted that the road ahead would not be smooth.

Somdev had reached the final in 2009, losing the title match to Marin Cilic and then failed to move beyond second and first rounds the following years respectively.

"Well, I certainly hope to do well and go one better than 2009. I love playing in Chennai. The atmosphere is great, the crowd is supportive, it's just awesome," Somdev said ahead of the ATP event beginning here January 2.

"(However) it's not easy. You want to play well, the crowd wants you to do well. It's a charged- up atmosphere. So there is a lot of pressure. You just have to try and not let it get to you. That's easier said than done though," he added.

Somdev had lost to Tipsarevic in the second round in 2010 and to Belgian David Goffin in the first round in the 2011 edition.

"It's a very strong field. At this level it's rare to get easy wins," he said about the field, which features world number nine Tipsarevic and number 10 Nicolas Almagro.

Talking about the 2012 season, Somdev said his prime target is competing at the London Olympics.

"The focus is definitely on the Olympics, I'll just work at improving my game further, and breaking into the (world's) top-50 would be nice," he said.

The 26-year-old Devvarman had a mixed 2011 - he moved up as high as 63 in the world ranking after beginning the year at 108 but slumped to 84.

"The sudden rise (was) due to good matches and favourable outcomes (and the) sudden slump due to injury," he said, referring to his recurring shoulder injury.

"Consistency is the key. When you meet top ranked players, which you often do in Tour events, they can easily expose your weaknesses. You have to stay on top of your game at all times."

Elaborating on the 2011 season, he said, "Reaching the finals of the Tour event in Johannesburg is definitely up there.

Besides that, I also got to play the likes of (Roger) Federer, Rafael (Nadal) on the big stage and also got some good wins against players like Guillermo Garcia-Lopez and (Janko) Tipsarevic.

"I think, on a given day, when I'm playing my best tennis I could beat any player. But to stay up there... win a grand slam ... you have to play that level consistently day-in and day-out," he said.