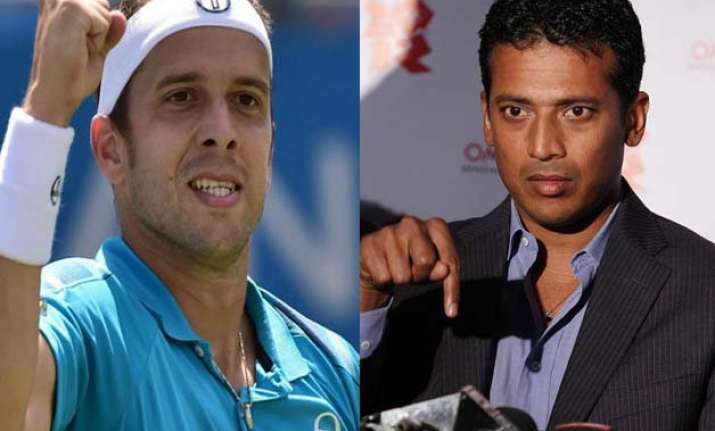 Chennai: One of the strong Indian doubles player Mahesh Bhupathi and Gilles Muller of Luxembourg choked at the super tie break after showing signs of winning leading 5-2 and bite the dust at the hands of top seeded pair of Raveen Klaasen (Russia) and Rajeev Ram (USA) in the doubles pre-quarterfinal match in the Aircel Chennai Open ATP Tennis tournament here late night  yesterday.
Bhupathi and Muller lost to Klassen and Ram 3-6, 7-6 (7) and 7-10 in about 90 minutes.
Bhupathi and Muller were caught napping by hardworking Klaasen and Ram in the very first set where Bhupathi was looking to make a mark for himself in the season of Olympic year. The very first service game of Bhupathi was broken with ease by the top seeds, who went on to claim the first set.  
In the second both Mullar and Bhupathi were looking to be confidence and making amends to their earlier errors, matched the rivals. With the games going on serves, the set meandered to tie break, where was more successful with his booming serve and won three points to lead 4-1 and Klassen made it 2-4.
Yet again Bhupathi excelled with good anticipation to pick an overhead lob and then rushed to the net to deftly place the ball on open court (5-2) and then Muller gained two points and won the game with 4 set points.
In the Super Tie-break too, Bhupathi and Muller kept up the momentum and leading 3-0, Bhupathi came up with a delightful two handed back hand to open court for 4-0.  With Ram scoring a point and then Bhupathi packing his forehand return long, the top seeds bridged the lead to 2-4 and Bhupathi made it 5-2.
With Klassen finding success with his solid serves and Muller looked to be wanting in his returns which went long, the top seeds made the score to 4-5 and a long drawn rally followed.
Here, Klassen and Ram defended so well that they forced Muller to err. Muller had all the time in the world to finish with an overhead smash for point but to the chagrin of supporting crowd failed to cross the netting.
Klassen and Ram were looking for room to grab the advantage and they made good use of this shift and turned the match to their favour to lead 7-5 from being down 2-5 earlier.  Bhupathi and Muller wilted under pressure and failed to stem the rot as both Klassen and Ram stood to their billing as top seeds to never look back before winning the super tie break and the match.
In another doubles match on the side court, Lukas Rosol (Cze) and Igor Zelenay (Svk) won their first round match in straight sets of 6-3, 7-5 against Phillip Oswald (Aut) and Adil Shamasdin of Canada.