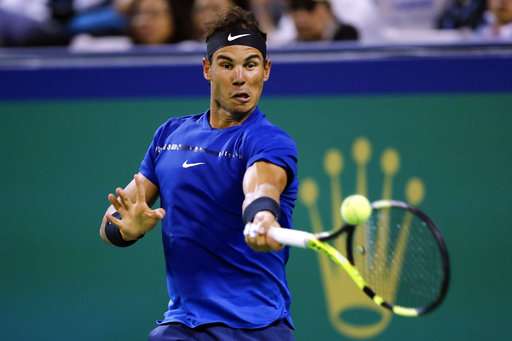 Rafael Nadal tied Andre Agassi for sixth place on the list of all-time Open Era wins when he reached the Shanghai Masters semifinals on Friday. Topping Grigor Dimitrov of Bulgaria 6-4, 6-7 (6), 6-3 was his 870th match win. Nadal also improved his win streak to 15 having won the China Open last week. In Beijing, he defeated Dimitrov in a three-set semifinal.
Nadal has yet to drop serve in Shanghai.
Dimitrov extended the quarterfinal to a third set when he rebounded from a 4-2 deficit to win the second-set tiebreaker.
In the third set, Nadal saved the one break point he faced in the match in the fifth game and broke serve in the sixth to set up a victory.
"Winning a lot of matches in a row, so I'm very happy for everything," Nadal said. "Of course, being able to win the U.S. Open, Beijing, and being in the semifinals here ... I have to try to keep focus and hold that momentum. We'll see tomorrow if I can have another good day."
Fourth-seeded Marin Cilic stands between Nadal and a second ATP final in two weeks.
Also, Juan Martin del Potro rebounded against Viktor Troicki of Serbia to win 4-6, 6-1, 6-4. Del Potro awaits Roger Federer or Richard Gasquet.
Cilic advanced to his first Shanghai semifinal by beating Albert Ramos-Vinolas of Spain 6-3, 6-4.
The 25th-ranked Ramos-Vinolas ended Cilic's streak of winning 21 service games in the sixth game of the second set.
"I was a little bit angry with myself just with not keeping up the good tennis at that moment," Cilic said.
Del Potro tumbled on the court at 2-2 in the third set and instinctively tried to break the fall with his left wrist. Del Potro, who has undergone surgery on both wrists, conferred with a trainer as he repeatedly shook his wrist.
Del Potro ended up breaking Troicki's serve in that fifth game and went on to secure his third semifinal berth of the season, after Delray Beach and the U.S. Open.