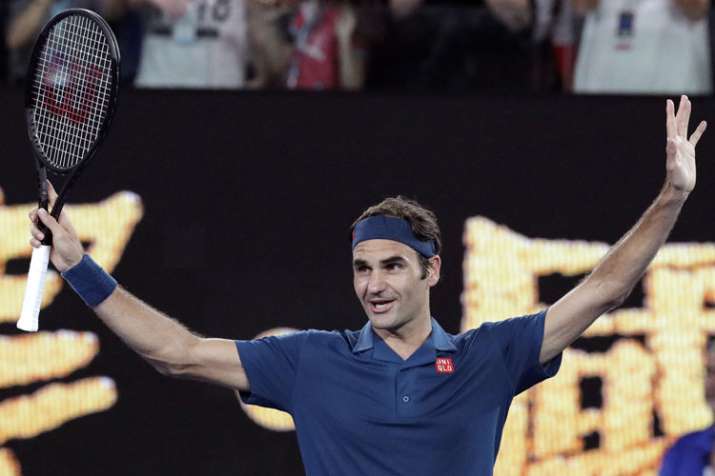 Defending champion Roger Federer began his quest for a record seventh Australian Open title with a 6-3, 6-4, 6-4 win over Denis Istomin.
Playing before a capacity crowd of more than 15,000 at Rod Laver Arena, Federer broke Istomin's serve at 2-2 in the third set on the way to his seventh win in a row without a loss against the Uzbekistan player.
Federer's seventh Australian Open title would be the most by any player. Novak Djokovic, who plays his first-round match on Tuesday, and Roy Emerson, also have six wins each at the Australian Open, although Emerson's wins were before the start of the Open era in 1968.
A win in Melbourne would also be Federer's 100th tour-level title, the second man after Jimmy Connors to win 100 titles. Connors had 109.
NADAL EASES PAST DUCKWORTH
Rafa's back!

In his 1⃣4⃣th appearance at the #AusOpen, @RafaelNadal gets his 2019 campaign underway, def. James Duckworth 6-4 6-3 7-5. pic.twitter.com/egIaN204qE

— #AusOpen (@AustralianOpen) January 14, 2019

Rafael Nadal wasn't about to let another Australian wild-card entry beat him at a Grand Slam tournament.
The Spanish left-hander beat No. 238th-ranked James Duckworth 6-4, 6-3, 7-5, his 15th win in 17 matches against wild cards at Grand Slam tournaments.
Nadal's only previous defeats to wildcard entrants at majors were against American James Blake in the third round of the 2005 U.S. Open and Australian Nick Kyrgios in the round of 16 at Wimbledon in 2014.
Nadal, wearing a sleeveless top, did an extended left-arm celebratory pump after breaking Duckworth's serve after two cross-court stunners to lead 4-2 in the third set.
His only stumble as he served for the match and was broken by Duckworth, who got back to 5-4. But Nadal returned the favor, breaking the Australian in the final game of the match.
Nadal has only lost twice in the first round at Grand Slams — to Steve Darcis at 2013 Wimbledon, and to Fernando Verdasco at Melbourne Park in 2016.
ANDERSON BEAT MANNARINO
🇿🇦South African 5th seed @KAndersonATP navigates past Mannarino 6-3, 5-7, 6-2, 6-1 #AusOpen #gamesetmatch pic.twitter.com/zNNStSX0nF

— #AusOpen (@AustralianOpen) January 14, 2019
Fifth-seeded Kevin Anderson has overcome traditional poor first-round performances at Melbourne Park with a 6-3, 5-7, 6-2, 6-1 win over Adrian Mannarino.
Anderson has lost in the first round here six times, including to Kyle Edmund last year. It was the South African's first win in Melbourne since 2015.
He warmed up for the Australian Open by winning his sixth ATP tour title at Pune, India.
Mannarino became upset when Anderson took a lengthy bathroom break after the third set, complaining to the umpire. The Frenchman's mood wasn't improved when he lost his service game to open the fourth set.
Mannarino recorded his best performance at Melbourne Park by advancing to the third round last year. He went into Monday's match having lost in the first round at Doha and at last week's Sydney International.
BERDYCH SENDS EDMUND HOME
Big Berd is Back 🐦

Tomas Berdych unleashed 37 winners to upset the No. 13 seed Kyle Edmund 6-3 6-0 7-5: https://t.co/iFmlNGiGeg#AusOpen #sleepisfortheweak pic.twitter.com/cJvANSGT4J

— #AusOpen (@AustralianOpen) January 14, 2019
Tomas Berdych sent 2018 Australian Open semifinalist Kyle Edmund home right away this year.
Berdych picked up a surprisingly easy victory over the 13th-seeded Edmund on Monday, beating him 6-3, 6-0, 7-5.
The biggest difference? Edmund made 36 unforced errors, 22 more than Berdych. Edmund also managed to earn only one break point and failed to convert it, while Berdych broke him five times.
Berdych was the 2010 runner-up at Wimbledon and he twice has been a semifinalist at the Australian Open.
Edmund's top result at a major came a year ago in Melbourne.
OPELKA BEATS UPSETS ISNER
🚨🚨🚨 UPSET ALERT!!! #Opelka ousts 9th seed #Isner 7-6(4) 7-6(6) 6-7(4) 7-6(5) 🇺🇸 #gamesetmatch #AusOpen pic.twitter.com/88g1iwugBL

— #AusOpen (@AustralianOpen) January 14, 2019
John Isner hit more aces than his opponent, 47-40. He delivered more total winners and finished with more overall points, too. What Isner failed to do for the first time in his career was beat an American foe at a Grand Slam tournament, and now the highest-ranked man from the U.S. is gone from the Australian Open.
Reilly Opelka, ranked just 97th, earned his first victory in a main-draw match at a major by edging Isner in four tiebreakers 7-6 (4), 7-6 (6), 6-7 (4), 7-6 (5).
Isner was seeded No. 9, was a semifinalist at Wimbledon last year and had been 9-0 in all-U.S. contests at the Slams.
If anyone is the 33-year-old's equal when it comes to big serving, though, it's Opelka, a 21-year-old based in Florida who at 6-foot-11 (2.11 meters) is an inch (3 centimeters) taller than Isner.
Isner went up a break in the fourth set and served to force a fifth while ahead 5-4. But he got broken there, missing one backhand followed by a trio of forehands. Opelka took the eventual — inevitable? — tiebreaker with the help with of three aces, including one at 227 kph (141 mph) to close out the match.
TOMIC HITS OUT AT HEWITT AFTER LOSS TO CILIC
So far, so good for @cilic_marin 💪

The #AusOpen finalist def. Tomic 6-2 6-4 7-6(3). pic.twitter.com/KhWPs0Ztrc

— #AusOpen (@AustralianOpen) January 14, 2019
Bernard Tomic has continued his criticism of Australia's Davis Cup captain, saying LLeyton Hewitt is causing division among the players and should be replaced.
Tomic, who was beaten 6-2 6-4, 7-6 (3) by sixth-seeded Marin Cilic, said he would not play Davis Cup again with Hewitt as captain.
"No one likes him anymore," Tomic said of Hewitt. "We have a lot of issues that not a lot of players are happy about ... he's doing the wrong thing and everyone's leaving."
Tomic played Davis Cup for 10 years but hasn't played consistently since Hewitt has been in charge of the team.
"Lleyton's legacy and his tennis speaks for itself. He's an unbelievable champion," Tomic said. "But what he's doing now is wrong."
Last year at the Australian Open, Hewitt countered Tomic's claim that Australia couldn't win without him by saying he doubted Tomic would play again under his captaincy.