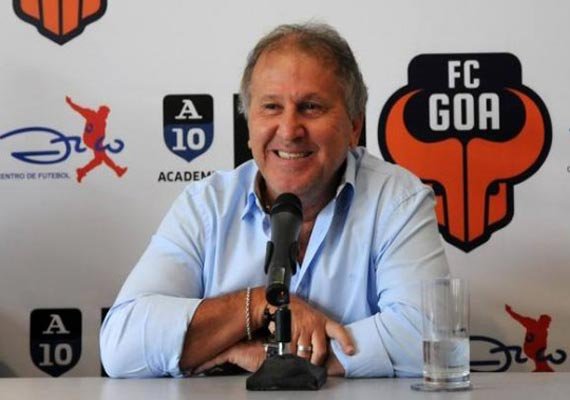 Fatorda (Goa): Too many foreigners in the starting 11 won't help Indian Super League's (ISL) cause of developing football in the country, said Brazilian legend and FC Goa coach Zico.
Zico said the inaugural edition of the ISL is stipulated to have a minimum of five Indians on the field during a match. All teams are utilising this rule to field six foreigners which is defeating the purpose for which the tournament was conceptualised, he said.
"I think the difference with Japan was that they didn't bring in too many foreign players. In my opinion at the ISL it's not too good to have too many foreigners playing. The minimum of 5 Indian players is too less in my opinion. Since it's the ISL, we have to encourage more Indian football," Zico, a former Japan national coach, said here Friday.
However, his team, is currently at the bottom of the table with a single point after four matches, having lost three. But Zico is still hopeful about his team's chances in the league.
"We lost some games but we can also win and move on. We created some good opportunities and had chances but didn't manage to convert them, even though we played well," he said.
"This is the magic about football. Sometimes a team plays very well but doesn't score, while another team comes and scores. But then, that's how football is."
FC Goa are due to host Delhi Dynamos at the Jawaharlal Nehru Stadium here Saturday and the hosts are set to miss out on important players due to injury or suspension (marquee player Robert Pires) but Zico said he was unperturbed about these losses.
"We never think it's only 11 players, we have a group of 27 players. All 27 players are ready to play. Some are injured but the others are fit and ready to play. Players have been picked for the team because they are good and they are prepared to play. So I'm not too worried about that. I told them that they have to be prepared to play at any time, in any situation," the 61-year-old said.