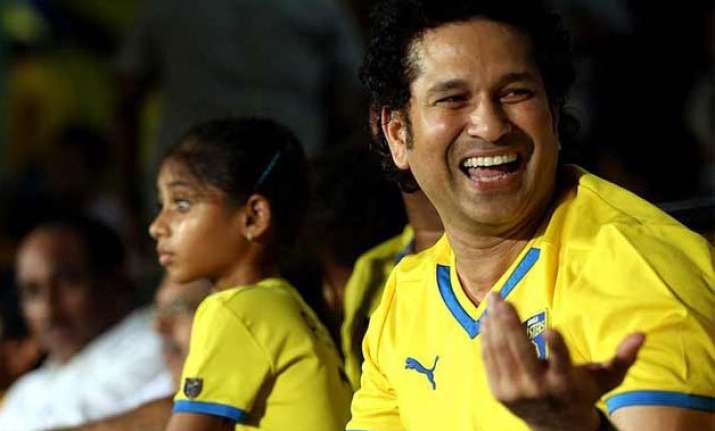 Kochi: With Kerala Blasters back to their home ground, the cynosure of all eyes would be two icons in their own right, Sachin Tendulkar in the stands and Brazilian giant Roberto Carlos on the field, during Sunday's ISL match here.
For both the teams - Kerala Blasters and Delhi Dynamos - it would be their fourth match and on the points table the visitors are fifth with two wins and a loss, while the home team has four points from their last three games.
On paper, the visitors appear to have a slight edge as they reached here after winning last match, while the home team lost theirs at Kolkata. Hence, the pressure would be on Kerala Blasters.
With Tendulkar set to watch the match and being a holiday, the stands are likely to be be overflowing with over 60,000 fans behind the home team, Carlos would certainly require all his experience to ensure that he gets his team to deliver its best and all eyes are on the veteran, if he would don the boot.
Incidentally, yet another Carlos, who will be keenly watched, would be the home team's marquee player Spaniard Carlos Marchena, who has returned from Spain, after a quick visit, following an injury he sustained during the team's practice matches.
All eyes will also be on the home team's coach Peter Taylor, whose tactics in the second match by resting the three key players, who did an excellent job in the first match, raised eyebrows. 
Indications are that Marchena would play Sunday's match , besides Josue Currais Prieto and local boy Rafi. 
Both of them who scored in the teams' opening match would be in the starting line up.
The troika of former Chelsea winger Florent Malouda, Brazilian Gustavo Dos Santos and Ghanaian forward Richard Gadze's, all appear to be in good form and this could well be bad news for the home team.
However, the home team would be pumped up as they play in front of their fans and with Tendulkar watching them, they feel, it would be tough for the visitors. 
But one thing is sure, fans can hope to watch some quality soccer.