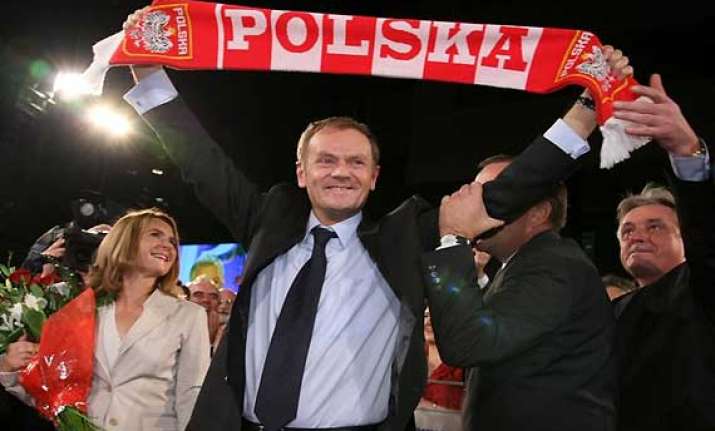 Warsaw, Jun 7: Poland's prime minister traveled on a new highway and dined on African yams and beer with a Nigerian-born lawmaker Thursday, a symbolic visit on the eve of the European Championship aimed at showing that his country has made improvements to roads and on the issue of racial tolerance.
Donald Tusk traveled 140 kilometers (90 miles) west on a just-finished stretch of a key highway -- the A2 -- to reach the city of Lodz. There, he and his wife sat down to lunch in the home of Poland's first black parliamentarian, John Godson.
TV footage from a Polish news station showed images of Tusk's motorcade traveling along the highway, and later sitting at the head of a dinner table surrounded by Godson and his family, including his Polish wife, children and his mother, who had flown in from Nigeria.
The visit comes amid years of anxiety over whether the ex-communist country would have its roads, stadiums and other infrastructure ready for Euro 2012, which begins Friday with a match between Poland and Greece in Warsaw and is co-hosted by Ukraine.
For the most part, Poland has completed work on all the facilities, including stadiums and airports, and most roads. One big exception is the second line of the Warsaw underground that was to serve the fans, but is still under construction and causing traffic jams.
Tusk's overt public relations moves also come amid fears that the European Championship -- the first time it has been held in Eastern Europe -- could be marred by racism. He wore a pin that said "Welcome" and said he was trying to show that Poland will be a hospitable place.
The issue of racism has received a lot of attention since the BBC aired a documentary late last month highlighting the problem of racism and anti-Semitism in Ukrainian and Polish stadiums.
The program showed Ukrainian hooligans violently attacking Asian fans supporting the same team at a domestic league match. Officials in both countries complained that the documentary was unbalanced and have stressed their determination to fight racism.
Poland's Foreign Ministry acknowledged that racism and anti-Semitism are problems for the country, but not on the level that the BBC suggested.
In the documentary, former England footballer Sol Campbell warned English fans to stay home or risk returning "in a coffin." And the families of two black England players -- Theo Walcott and Alex Oxlade-Chamberlain -- said they may not travel to the tournament.
Tusk appealed directly to English fans to come to Poland.
"I very, very warmly invite all English people. You will definitely not encounter anything unpleasant here," Tusk told reporters in Lodz.
His message was echoed by Godson, who criticized the BBC documentary and called Poland "a hospitable and tolerant country."