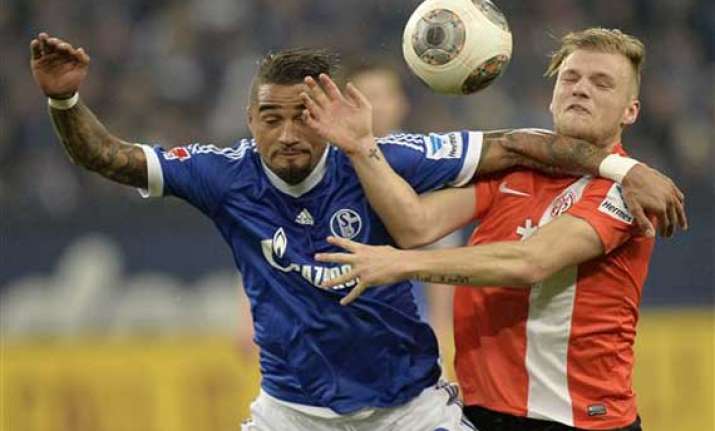 Frankfurt, Germany: Real Madrid rides a big wave into Schalke for their Champions League last-16 tie on Wednesday having just shot to the top of the Spanish league for the first time since 2012.
Madrid is unbeaten in 26 games, its best run since 1988-89 when it went a record 34 games unbeaten. Schalke is riding a more modest unbeaten run of seven matches, and failed to win at home against Mainz on Friday in the Bundesliga.   
Here are five things to know ahead of the match:   
RONALDO RETURNS: Cristiano Ronaldo returns to Real Madrid's lineup after sitting out a three-match suspension in the Spanish league. The world player of the year has nine goals in the Champions League, only one behind tournament leading scorer Zlatan Ibrahimovic of Paris Saint-Germain. While his absence in the domestic league did not hurt, Ronaldo's Champions League experience could be crucial in an away game, where goals take on special importance. Real's 20 goals in the group stage led the competition.   
MADRID'S WOEFUL RECORD IN GERMANY: Real Madrid has won only once in 25 previous visits to German opposition, losing 18 times, including a 4-1 defeat at Borussia Dortmund in last season's semifinal first leg which set up a 4-3 aggregate defeat. The only victory was a 3-2 success at Bayer Leverkusen in 2000-01. Coach Carlo Ancelotti won the title four times as player and coach.   
SCHALKE DEFIANT: Schalke coach Jens Keller believes the odds are stacked firmly against his team being able to knock out Real Madrid. "We'll need a little miracle," Keller says. "It'll be difficult but we're not going into it to exchange jerseys." Midfielder Kevin-Prince Boateng says Schalke can go into the match with confidence despite the tepid 0-0 draw with Mainz, and goalkeeper Ralf Faehrmann adds: "Borussia Dortmund showed that Real also is beatable."   
MORE GOALS FOR GARETH: For Ancelotti, there is no secret to getting Gareth Bale going. He needs goals. Bale scored a memorable long-range screamer in Saturday's 3-0 win at Elche, a goal that perhaps only teammate Cristiano Ronaldo and Lionel Messi are capable of. Ancelotti was clear the Welshman needed to score more of them. "There is no uncertainty in analyzing Bale's game: He had no confidence before that incredible goal and after it, he played an entirely different game," Ancelotti says. "That goal will help his confidence. He played well enough before the goal but fantastic afterward." Another newcomer this season, Asier Illaramendi, is also finding his feet after a rocky start since his move from Real Sociedad, with the young player often having to wait to fill in for Xabi Alonso. "I don't know how he hits the ball but he makes it do incredible things," Ancelotti says after the holding midfielder also scored against Elche. "He's a great player and he's showing it."   
DEFENSE WINS: Madrid's defense has played a pivotal role in its unbeaten run. It has allowed 16 goals over the run, and just three times in its last 14 matches. To appease his two goalies, Ancelotti has Iker Casillas starting in the Champions League and Copa del Rey, and Diego Lopez in La Liga. The move has worked out great. Casillas, the Spain captain, has helped Madrid make the Copa del Rey final without conceding a goal. Center backs Sergio Ramos and Pepe have been steady and France international Raphael Varane has also returned strongly from a knee injury. "I'm getting better and finding my form little by little," Varane says. "We're defending very well and we can still improve. We're communicating well and playing with intensity. The team is in great form." Ancelotti also has ample choice at both fullback positions, with Marcelo or Fabio Coentrao available on the left side and Alvaro Arbeloa and Dani Carvajal sharing duties on the right.