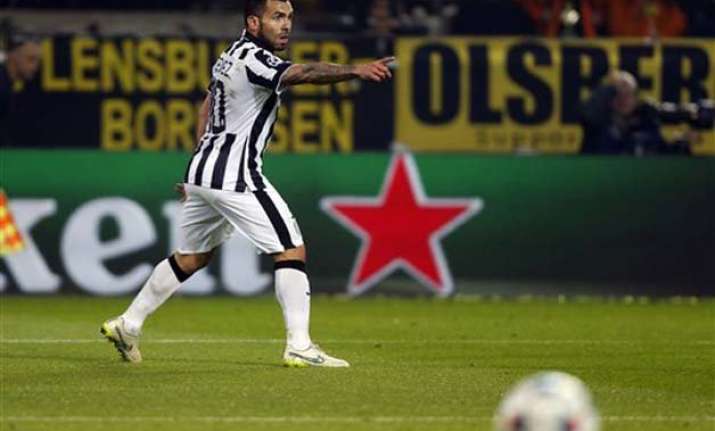 Dortmund, Germany: Carlos Tevez scored two and set up another as Juventus beat Borussia Dortmund 3-0 away to reach the Champions League quarterfinals with a 5-1 aggregate victory on Wednesday.
Tevez opened the scoring in the third minute when he let fly with a thunderous shot from around 20 meters (yards) into the top left corner. The Argentine then gave Alvaro Morata a simple tap-in to seal the victory on a counterattack in the 70th.
Arturo Vidal set up Tevez's second in the 79th, giving the scoreline a flattering but fair look, as the Italian side advanced to only its second Champions League quarterfinal since 2006.
"It was a game to forget. It began in the third minute and didn't get much better. Juve were simply much better than us today," Dortmund coach Juergen Klopp said. "We're out, we didn't play well, now we'll concentrate on the Bundesliga and German Cup."
Dortmund, the 2013 finalist, had been bidding to reach its third successive quarterfinal.
"It's an evening we have to say we fully deserved to be knocked out," Klopp said.
Leading 2-1 from the round-of-16 first leg in Turin, the visiting side nullified Dortmund's attacking threat to leave Bayern Munich as the Bundesliga's only remaining side in the competition, with the final to be played in Berlin on June 6.
In the other second leg match of the last 16, Barcelona beat Manchester City 1-0 on the night to go through 3-1 on aggregate.
"The second half was sub-standard from us; the high scoreline is fully in order. A pity that our last Champions League match for one and a half years went so badly," said Dortmund captain Mats Hummels, whose side has struggled in the Bundesliga. It was bottom of the league in February.
Juventus coach Massimiliano Allegri had promised his side wouldn't sit back despite the first leg advantage. His players stayed true to his word and Tevez got the visitors off the mark with an effort that stunned the home fans.
"Tevez is playing a great season," Allegri said of the forward, who has scored 21 goals in 33 league and Champions League games this season. "We're happy to have him because he helps the team a lot. There's no question about his technical ability."
Juventus pushed high up the pitch and snuffed out Dortmund's response before it could even begin.
The home side harried and fought, yet was unable to trouble Gianluigi Buffon in goal. The veteran goalkeeper reacted quickly to extinguish the danger with Marco Reus lurking in the 36th but it was a rare intervention.
Midfield marshal Paul Pogba had gone off injured before that, prompting a period of Dortmund pressure. The visitors were the only ones who created chances however, with Vidal firing over.
Fans made their frustration known in the first half, with confidence-hit midfielder Henrikh Mkhitaryan a particular target. There were more loud whistles at halftime.
Goalkeeper Roman Weidenfeller kept Dortmund in the tie when he saved a great chance for Morata five minutes into the second half. Mkhitaryan was then crowded out on a counterattack at the other end.
Weidenfeller denied Morata again, before Buffon easily saved from Kevin Kampl with Dortmund's first shot on target - after more than an hour of play.
By then it was too late, and Tevez sealed Dortmund's fate — and the German side's fourth loss in four European home games against Juventus — shortly afterward.
"We only allowed two chances over 180 minutes," Allegri said. "We're confident and we know our strengths, technically and physically. We're playing well in Italy since the start of the system. Here in Europe, we've delivered two top performances in succession. I think this was even better than the home game."