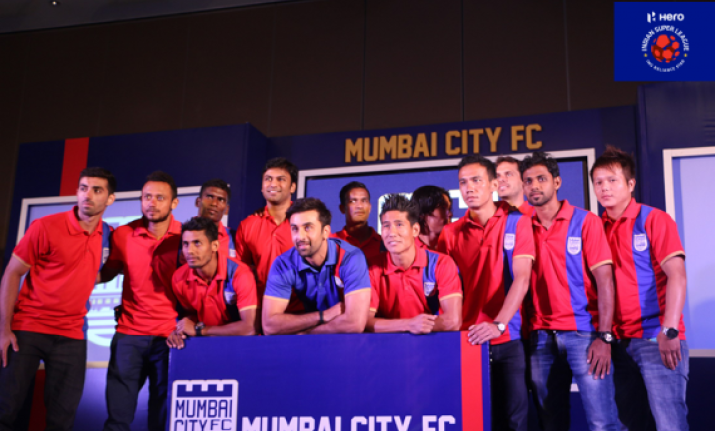 Mumbai: Mumbai City Football Club, co-owned by Bollywood actor Ranbir Kapoor, would play all its home games in the upcoming Hero Indian Super League at the D YPatil Stadium in Navi Mumbai, it was announced at the team's logo launch function.
The pre-season training, which has already started and would gather force from September 1, is being held at the Father Agnel's ground in Vashi, Navi Mumbai.
     
During the October 12 to December 20 tournament, the team would hold its training at the renovated Cooperage football ground in South Mumbai.
    
"The coach has already been identified and we would make a formal announcement on September 6. The marquee player's name will be revealed in the following week," said Ranbir Kapoor after unveiling the logo in the presence of co-owner Bimal Parekh and Nita Ambani, the chairperson of IMG-Reliance which has floated the unique ISL in partnership with Star India.
     
"I have been a football fan from my school days. We have all invested our heart and soul into this (ISL). This team belongs to not just me but 20 million Mumbaikars whose hearts beat here and who call the city home," he said.
    
"The technical team is in place. I have been at the D Y Patil Stadium over the last few weeks. I can't say how impressed I am about the playing surface. They (DY Patil authorities) have been wonderful and accommodating. The surface is perfect for our style of football," said team's technical director, Nishant Mehra.
     
The team has not decided on the price of tickets for the matches, and declared that they would be priced in such a way that there would be a full house in the 55,000 capacity stadium which has hosted mainly IPL cricket games in the past.
    
Among tho top Indians who have signed up to play for the franchise are goalkeeper Subrata Pal, defenders Deepak Mondal, Raju Gaikwad and Syed Rahim Nabi, other than frontliner Lalrindike Ralte.
    
The overseas player list includes goalkeeper Andre Matos Dias Pereira of Portugal and top defender Manuel Friedrich of Germany.