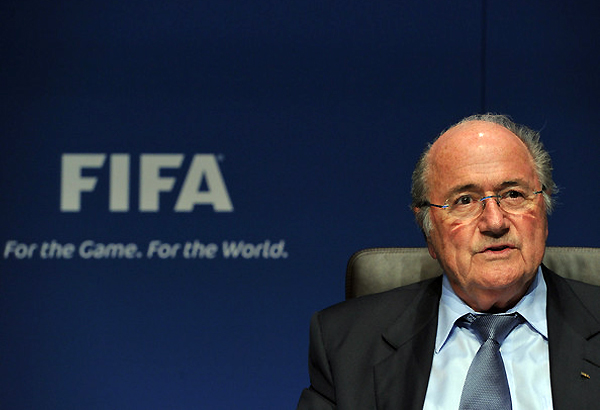 New Delhi, Feb 16: Indian football administrators are eager to use an upcoming visit by FIFA president Sepp Blatter to give an impetus to the sport in the cricket-crazy country.

"The FIFA chief will visit India on March 9, giving us an opportunity to showcase the potential of football in our country," All India Football Federation secretary-general Kushal Das told The Associated Press on Thursday. "The world body is already helping us a lot but we could perhaps ask for more quantum of support."

Das said the visit is also being seen by AIFF as a chance to push for India's case for hosting the under-17 World Cup in 2017, which guarantees the host's participation in a world-level event.

"Hosting the under-17 World Cup will give us a chance to boost the image of Indian football. It is not just about hosting the event, but also about the fact that India will get to play in a World Cup for the first time, which could inspire a whole generation of players," Das added.

The world body has been supporting four academies in the country being built in Kolkata, Mumbai, Bangalore and New Delhi, all of which will host matches if India does host the under-17 World Cup.

"The FIFA sees huge potential for the game in India. Though we don't have any specific agenda in mind, there is always the possibility of getting more help for academies under our joint development program," Das added.

Indian football has evoked a lot of interest in recent years despite its national team having a low ranking of 154.

Foreign clubs like Manchester United, Liverpool and Bayern Munich have been organizing activities and planning academies in a bid to increase their fan base in this country of 1.2 billion people.

Even Indian companies have been investing in the game. English Premier League club Blackburn Rovers has an Indian owner in Venky's, a chicken company headquartered in the western city of Pune.

Other Indian firms have bought franchises in a Premier League Soccer tournament to be held in the eastern state of West Bengal from next month which will see the likes of former Argentina striker Hernan Crespo and Italy's World Cup-winning captain Fabio Cannavaro in action.

The AIFF, which runs its own competition called the I-League, has also managed to bring in some money to the game lately.

IMG-Reliance—a partnership between IMG Worldwide and Indian company Reliance Industries Ltd.—signed a 15-year deal in 2010 worth $140 million for all commercial rights to promote and market football in India.

The national team qualified for the 2011 Asian Cup and also reached the second round of Asian qualifying for the 2014 World Cup before losing to the United Arab Emirates.