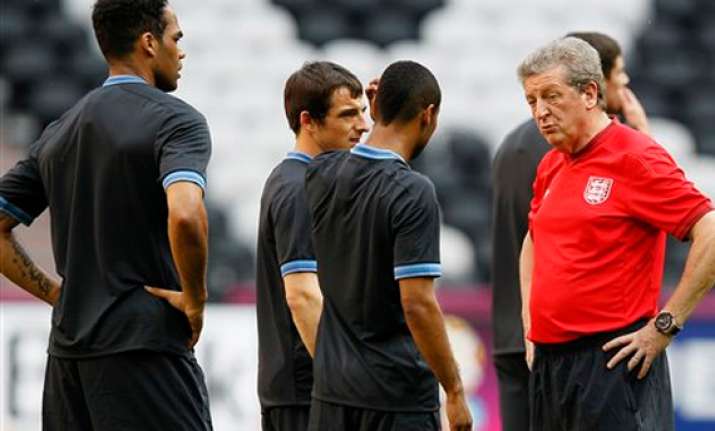 Ukraine, Jun 10: On the eve of his competitive debut as England coach, Roy Hodgson didn't want to be reminded about how weak the country has been on the international stage.
The latest mission to end a trophy drought stretching back to the 1966 World Cup starts against France on Monday at the European Championship.
"Well, I can go back further than that," Hodgson said. "I think we started professional football in the 1860s or 1870s. I think during the centuries, I don't think we could ever be accused of not being a very serious or even a top football nation.
"But how good we are as a nation, how good we will be as a nation, will always be decided on the field of play."
England, which failed to qualify for the 2008 tournament under Steve McClaren, is back at the European Championship for the first time in eight years.
"We start among the 16 teams with a chance to show how good a football nation we are," Hodgson said.
Football Association Chairman David Bernstein has told the coach he'd be happy with six 1-0 wins at Euro 2012 -- ending in the final in Kiev.
The side has also been getting in good practice, having won five of its last seven matches 1-0 stretching back into Fabio Capello's reign, which ended in February.
"If you are lucky enough to work with a team that can defend well and not concede many goals, then quite often you will be called a cautious coach I suppose," Hodgson said. "It's more a question that the higher the quality team you play, in terms of the attacking threat, the better defensively you have to be.
"If adhering to that theory makes me a cautious coach, then I suppose I'm a cautious coach," he added. "I'm a pragmatic coach in the sense that I like to win, and I know I can't win by asking my forwards to score three of four goals."
Both Euro 2012 warm-up matches, against Norway and Belgium, produced 1-0 victories where England rarely dazzled.
Hodgson now wants to see his players reproducing their domestic displays in the Premier League on the international stage.
"My hope is they show that form individually and as a team tomorrow and in the couple of matches after that," Hodgson said.
But the former Inter Milan and Liverpool manager sees France as a "stern challenge" to open Group D.
"We are facing a team who ... are in excellent form—and 21 matches unbeaten at any level of football, let alone international football, is a fine achievement," he said. "But I think when you come to European Championships or World Cups, to some extent having good form or bad form is not necessarily the factor that is going to be decisive. It is how you play on the night."
Hodgson, who was the surprise choice in early May to land the England job, has all 23 players fit and available for selection in his tournament debut.
Midfielder James Milner has recovered from a slight heel injury, while defender Martin Kelly has shaken off a virus.
With Wayne Rooney starting his two-match suspension against France, Danny Welbeck is poised to start up front with Ashley Young in support.
Welbeck's operates best, according to Hodgson, "if we're capable of getting good possession in midfield, sliding balls through."
Captain Steven Gerrard said there might be less pressure on the team after losing midfielders Frank Lampard and Gareth Barry, and defender Gary Cahill to tournament-ending injuries.
|
"What we've got to do as players is share the responsibility around the group," Gerrard said.