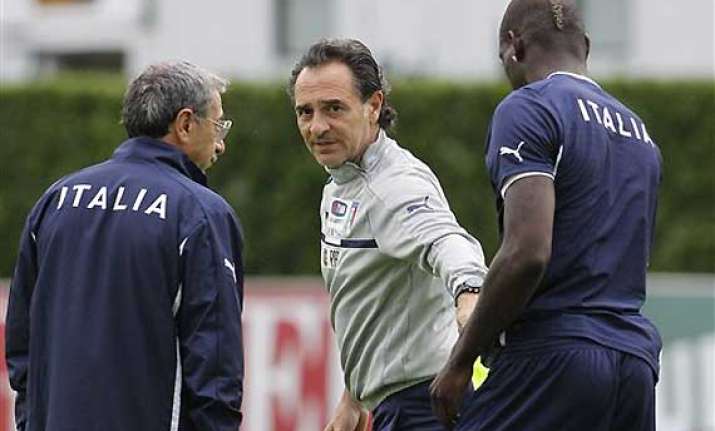 Krakow (Poland), June 5: From match-fixing to injuries and poor preparation, crisis-laden Italy was carrying a long list of problems to its European Championship training base Tuesday.
Goalkeeper Gianluigi Buffon has had his banking records examined on suspicion he made large bets, Leonardo Bonucci is reportedly under investigation for match-fixing, fellow center back Andrea Barzagli may miss the tournament with a calf injury and standout striker Mario Balotelli is also hurting.
Beyond all that, the Azzurri have lost their last three friendlies by a combined score of 5-0.
With fresh memories of its first-round elimination from the 2010 World Cup, Italy has only five days to restore order ahead of its opener against defending champion Spain.
Italy was eliminated from Euro 2008 by Spain on penalties in the quarterfinals.
"(Spain) plays great football but we shouldn't be afraid of anyone," Italy midfielder Claudio Marchisio said. "We've got to work hard in this final week, but we're not worried."
Also in Group C, Italy will face eighth-ranked Croatia and Ireland, which is coached by Giovanni Trapattoni.
Amid a major betting and match-fixing scandal, reports surfaced last week over large payments from Buffon to the owner of a tobacco shop that is also a betting parlor. Buffon has not been placed under investigation and is not accused of any wrongdoing, but the revelations still shook the Azzurri camp.
As for Bonucci, his inclusion on the squad has been in the spotlight since another defender, Domenico Criscito, was cut from the team after police showed up at the Azzurri's Coverciano training complex last week to hand him a notification that he was under investigation for match-fixing.
However, the Italian football federation insists that Bonucci's case is different, and that he is not under investigation, despite news reports that say otherwise.
Marchisio teamed with Buffon and Bonucci to help Juventus win the Serie A title last season.
"Bonucci and Buffon are the first people to give us serenity," Marchisio said. "They've always trained with tranquility."
Another Juventus player, Barzagli, strained his left calf in a 3-0 friendly loss to Russia on Friday and could be sidelined for 20 days. He's one of only four holdovers from the squad that won the 2006 World Cup, along with Buffon and midfielders Andrea Pirlo and Daniele De Rossi.
Meanwhile, Balotelli is still recuperating from a right thigh muscle problem and worked out only mildly in the squad's final training session Tuesday before flying to Poland.
While it has four World Cup titles, Italy has won the European Championship just once, back in 1968. If recent performances are any indication, the Azzurri don't look poised to end their 44-year winless streak.
Against Russia, all Italy could produce were a few chances from Balotelli, and coach Cesare Prandelli has already indicated he will likely switch from a traditional four-man defense to a three-man backline against Spain.
"We'll be ready for the opener," AC Milan fullback Ignazio Abate said. "I'm optimistic. This is a very close-knit and solid team. If the coach changes the formation it won't be a problem for us. It won't confuse our plans."
The Azzurri's other pre-tournament friendly against Luxembourg -- slated for Parma last week -- was canceled to due to an earthquake in central Italy.
Italy lost its two previous friendlies at home, first falling 1-0 to Uruguay in November then getting beat 1-0 by the United States in February.
The Azzurri's last victory came in Poland, a 2-0 win over the tournament co-hosts in November that featured Balotelli's first goal for the national team and another strike from Giampaolo Pazzini, who is now off the squad.
Based in Krakow, Italy will pay tribute to Holocaust victims by visiting the Auschwitz death camp Wednesday.
"It's important for all of us to go," Abate said. "We've spoken about it amongst ourselves and we're very curious. We're honored to make such a visit."