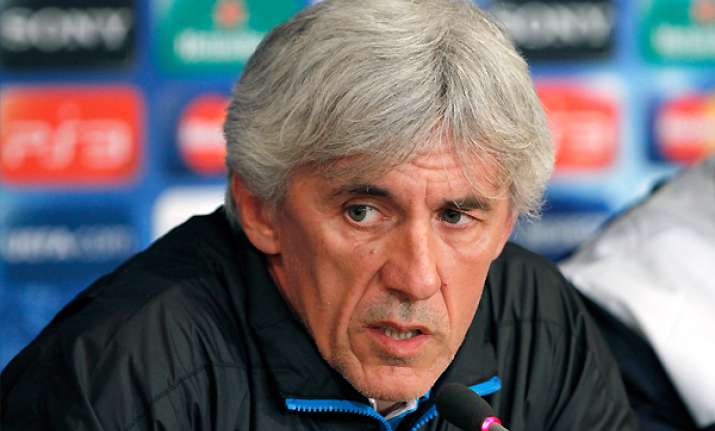 Nicosia (Cyprus), Mar 7: APOEL Nicosia will again try to defy expectations and overturn a 1-0 deficit against Lyon in the second leg of their Champions League matchup Wednesday to continue its historic Champions League run.

APOEL has already become the first Cypriot team to reach the round of 16 of the tournament and will rely on home advantage to go even further. The team has only lost once in 10 European matches at Nicosia's GSP stadium, and earned group-stage wins over Shakhtar Donetsk and Porto there.

"90 minutes away from eternity," Cypriot sports daily Goal News said on its front page Tuesday.

The small club is still considered the underdog against a much more experienced Lyon, which is playing in the last 16 for the ninth straight season.

But APOEL's players know that an upset on Wednesday will make history for the club and earn them a career highlight.

"Everybody's expecting this moment, the most important in the life I believe of this club and a very important day of us as players, as a team," APOEL's Brazilian midfielder Gustavo Manduca said. "We must score, we must win. We'll take the risk and we try to do our best to continue in this fantastic competition."

APOEL defender William Boaventura said his team has what takes to advance.

"Maybe for them (Lyon) it would be just another game in the Champions League, but for us it's going to be a great opportunity to make history," he said.

A 4-1 win over lowly Ermis over the weekend kept APOEL close to Cypriot league leaders AEL and Omonia. It also helped quell fan ire over a string of poor performances — including being eliminated from the League Cup competition — that some viewed as a consequence of the team focusing on its Champions League campaign.

While Portuguese midfielder Helio Pinto is suspended, APOEL coach Ivan Jovanovic has the rest of his squad at his disposal.

APOEL owes much of its success in the tournament to its disciplined defense, but will have to go on the attack more in this game in search of a goal. Jovanovic will count on forwards Estaban Solari, Ivan Trickovski and star Ailton Almeida to exploit the defensive weaknesses of struggling Lyon which has lost three and drawn two in its last five French league matches.

"It's completely natural to be under a lot of pressure in such games but for us this is positive because we know that we don't have much to lose but a lot to win," Jovanovic said. "We have a lot of enthusiasm, we're a team that will play to win because we don't have any other choice."

Lyon's 2-0 loss to relegation-threatened Nancy on Saturday dropped the team to seventh place in the standings and drew an angry response from club president Jean-Michel Aulas.

"They're nice guys, but that's not enough. They shouldn't pass up the opportunities that they have," Aulas said. "They're talented, they have money, glory and looks, but they have to increase their commitment. What's missing is for them to be at their best more often, and on the same day."

Lyon coach Remi Garde defended his players, saying that although the team's psychology may have taken a hit because of their domestic league results, the Champions League is a different ball game.

"We know where we're coming from, We know where we want to be, the French first division has nothing to do with a Champions League match," Garde told a news conference.

"Of course, there's pressure in both camps. We may advance or be knocked out of the competition, but we're very focused on our goal and we've been through a lot as a team in this year's Champions Leauge competition."

Garde said his players are ready for the match against APOEL and that midfield dominance, coupled with a strong defense, will be the key to his game plan.

Lyon midfielder Kim Kallstrom said a win against APOEL can help Lyon bounce back.

"It's an opportunity to put us back to where we deserve as a team," Kallstrom said.

But APOEL's push to score could create openings that Lyon's speedy forwards can exploit on the counterattack. Jovanovic conceded that Lyon's greater Champions League experience and controlling game will make it that much more difficult for his team, which will have to play a "perfect game" to advance.

"Tomorrow we're playing for the victory," Boaventura said. "We're losing 1-0 so we have to attack somehow, otherwise, we cannot get the result we want."

Lyon has been boosted by the return of central defender Dejan Lovren, who has shaken off an Achilles injury. But it will be without playmaker Yoann Gourcuff, who is still nursing a groin injury, as well as defender John Mensah who is out with a hamstring injury.