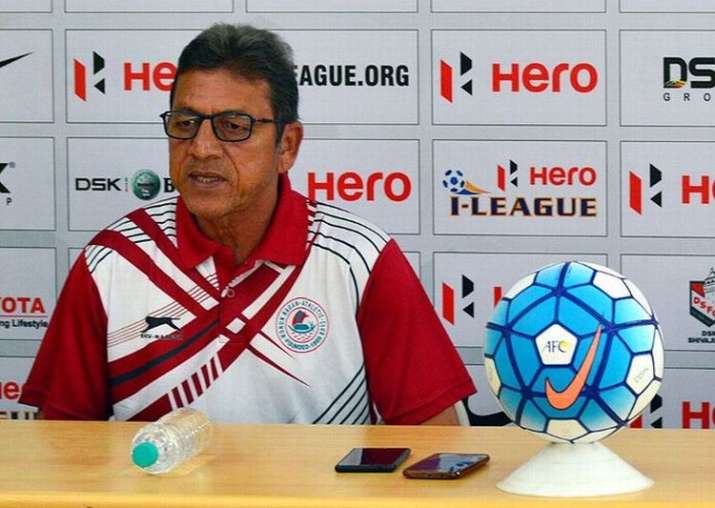 The fans of Mohun Bagan allegedly spit on their coach Sanjoy Sen, who quit after the club suffered a shocking defeat to minnows Chennai City FC in an I- League match in Kolkata on Tuesday. 
Chennai City FC, who were reduced to 10 players in the 34th minute, sprang the biggest upset of the I-League this season, securing a 2-1 win over Mohun Bagan. 
Their first loss of the season came in front of a near capacity crowd of about 15,000 at the Mohun Bagan ground. 
Minutes after Veniamin Shumeyko headed home the winner in the 71st minute, the crowd started shouting slogans of 'go back Sanjoy Sen' and the coach claimed that fans spit on him while he was going through the tunnel. 
"Mohun Bagan fans did spit on me while I was going through the tunnel," he said, as the crowd even tried to disrupt the post-match press conference by hurling missiles. 
He, however, refused to blamed the unruly crowd and said: "I do not know whether I deserve this public reaction or not, but it has been the case even with great coaches like Subrata Bhattacharya, Amal Dutta, Subhas Bhowmick and others. 
"If I was not from Kolkata, I would have been hurt seeing the reactions of the fans. But I can say that this reaction is normal and nothing extraordinary. If you lose, there is bound to be a negative reaction. Even Biswajit Bhattacharjee was also removed after he won the Calcutta Football League as he was not successful in the I-League. 
"Before I could have been sacked I think have taken a wise decision to step down. I do not care what tags are labelled on me," Sen said. 
Mohun Bagan's title aspirations may have dwindled but Sen still believed they can win the I-League this season. 
"I believe Mohun Bagan can still be champions. Right now, I don't have the mentality to work anymore in this club. From tomorrow, I will lead a normal life. I will go to my office, will even spend time with my friends," he signed off.
(With PTI inputs)