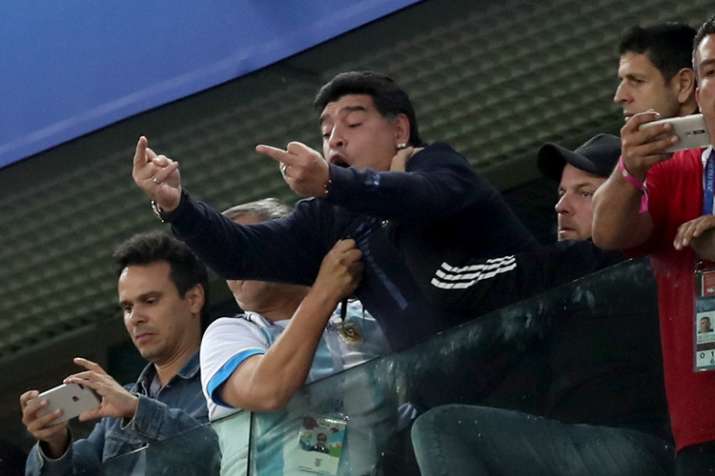 There was a huge outpouring of emotional relief from the Argentina players after their 2-1 win over Nigeria to scrape into the knockout stage of the World Cup.
Lionel Messi was hugged by a Nigeria player seconds after the final whistle. Then his teammates poured off the bench to mob him, forming a circle around him as they celebrated. After Messi politely shook referee Cuneyt Cakir's hand, more teammates lined up to hug him. (Also Read: New ball to be used for World Cup knockout stage)
Messi later clenched his fist as he turned toward the Argentina fans - returning their applause as they celebrated with wild relief. Striker Gonzalo Higuain, who wasted a great chance in the 80th minute, cried into the arms of a teammate.
Up in the stands, Diego Maradona seemed overcome with emotion, too, closing his eyes and leaning his head back.
The exquisite strike from Messi sparked the first of several celebrations from an animated Maradona, who screamed, shouted and made obscene gestures — and raised concerns for his health. (Also Read: Lionel Messi finally scores as Argentina advance to round of 16)
Maradona led Argentina to World Cup success in 1986 and helped the side reach the final four years later.
He had earlier celebrated Argentina's late winner from Marcos Rojo by sticking up both of his middle fingers at the crowd.
Maradona is no stranger to controversy on and off the field. He is most famous for the "Hand of God" in the 1986 World Cup against England when he used his hand to score.
Videos posted on social media showed Maradona needing help to leave the stands and move to an adjoining luxury box at the St. Petersburg stadium after watching Argentina beat Nigeria.
In the video, the Argentine great appeared to have his eyes closed and a later photo showed a pair of paramedics attending to him.
There was no immediate information on his health. About two hours later, a photograph of Maradona smiling at the airport was posted online.
Stadium staff said they were unaware of any incidents involving Maradona, and staff from the Argentina football federation told reporters they had no comment except to say the 1986 World Cup winner was not formally part of the delegation.
Messi's goal - his 65th for Argentina - was surely enough to impress even Maradona.
From a long pass over the defense by Ever Banega, Messi caressed the ball with his left thigh, took another touch with his left foot, and then delivered a smooth right-footed finish into the corner.
Messi fell to his knees and pointed his fingers upward in celebration. At the same time, Maradona crossed his arms with his hands on his shoulders and looked to the sky.