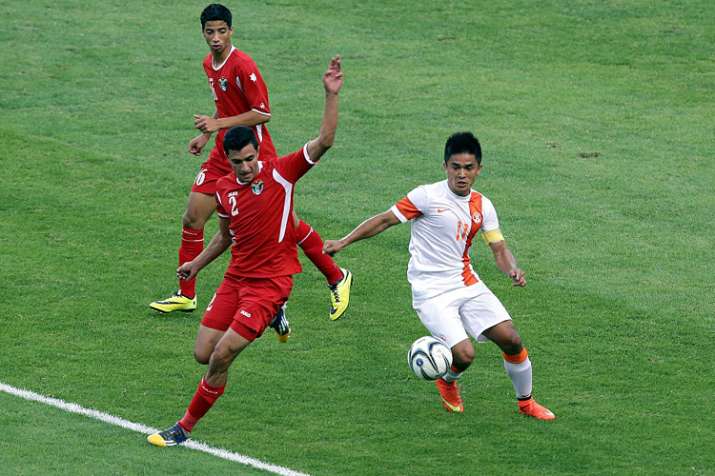 Two matches shy of his 100th international match, India football team captain Sunil Chhetri feels that there is much more "awareness about the game" in general among players and fans.
"They are much more aware and there is more awareness now. It is not only the players, but just the whole euphoria in the country. We as Indians are more aware (about the game)," said Chhetri on eve of his side's lung-opener against Chinese Taipei in the Inter-Continental Cup.
"The boys have more knowledge about the do's and don'ts. They are willing to take care of themselves and their nutrition," he added.
While 33-year-old Secunderabad-born Chhetri will play his 99th game tomorrow (June 1) against Chinese Taipei at the Mumbai Football Arena, he is slated to play his 100th game on June 4 against Kenya.
The skipper, who has 56 international goals to his name, stressed that he was fit and his team was ready for the multi-nation tournament.
"I am fully fit and we are ready for the tournament. It was a mixed bag when I first arrived for the Camp. There were players some of whom hadn't played for almost a month while there were some, who joined the camp straight from an AFC Cup match," Chhetri said.
Chhetri, who has been a youth icon, also emphasised that he would give his best when in national colours.
"It's an absolute honour for me to have played for my country. I have been involved with many coaches, players, physios and staff. I love playing for India and will give my best what I can," Chhetri, who also plays for Bengaluru FC in the Indian Super League, added.
India may be the top-ranked side in the Intercontinental Cup beginning here tomorrow, but head coach Stephen Constantine is expecting "different problems" from each of the three opponents and said that his team would need to be tactically prepared to shine in the tournament.
"We will use these games as a preparation for Asian Cup. We are looking forward to the game against Chinese Taipei tomorrow. Kenya and New Zealand will be giving us different problems. Physically we are prepared and we need to now prepare tactically," Constantine told reporters at the pre-tournament press conference.
"I am aware of the quality of the players whom Kenya and New Zealand have brought in and they are playing all across Europe," added the Indian coach.
Meanwhile, Chinese Taipei head coach Gary White admitted that India was a "strong team".
"India are a strong side and they are going up step by step. Sunil (Chhetri) is nearing to achieve a milestone. I hope he reaches it in the next two games but not against us. This tournament is going to add massive experience to our boys, more than any of the training sessions," said White.