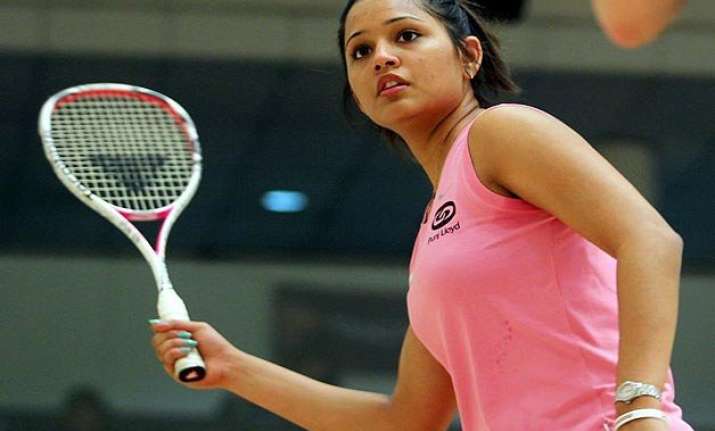 Toronto:  Third seed Dipika Pallikal proved her superiority over Joshna Chinappa once again with a 11-13, 11-6, 11-9, 11-9 win to enter the final of the WSA-Granite Open squash tournament here Thursday.
In the final, Pallikal takes on England's Sarah-Jane Perry who continued the giant-killing run when she defeated defending champion and top seed Amanda Sobhy of the US 11-7, 11-8, 8-11, 8-11, 11-6.
Perry, the 2013 Granite Open champion, was delighted with her continuing success in Toronto.
"I am really happy to be through to the final after a few tough matches and looking forward to the final. It's been a while since I last played Dipika. So it should be interesting. I will definitely be having a couple of days of well-deserved rest afterwards," she said.
Six months after the two had met in the Asian Games in Incheon and where Pallikal won, the top ranked Indian did it again beating Chinnappa.
There is little that Pallikal gives away on the court these days as she displayed in her quarterfinal final win over Jenny Duncalf.
Sharp in her movements and sure in her placings, Pallikal's hesitant phase ended with the first game which she lost on extended points after the score was 10-all.
Thereafter, the equations changed. Pallikal reeled off the next three games showing great touch and class.
Perry, the World No.16 from Kenilworth, arrived in Canada later than anticipated after overcoming compatriots Alison Waters and Laura Massaro, ranked three and five in the world, respectively, en-route to winning the British National Championship title for the first time against expectations.
Seed four here, Perry romped to a 2-0 lead over Sobhy before the World No.10 fought back to draw level, but the 24-year-old English underdog, in her maiden meeting with US No.1 Sobhy, dug deep to regain the initiative before clinching the match.