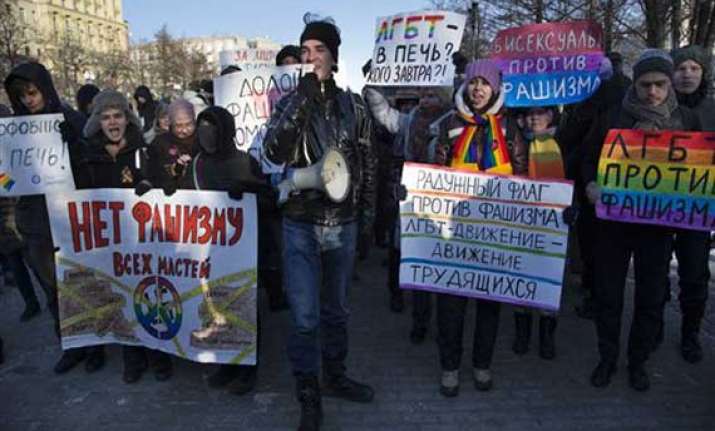 Tokyo: Japanese Prime Minister Shinzo Abe and his Chinese counterpart appear not to be bothered by the international ruckus over Russia's law restricting gay rights.
Unlike President Barack Obama, who pointedly declined to attend the Winter Olympics, the leaders of the world's second and third largest economies -- where gay rights are not a hot-button political issue -- are going to Sochi.   
Also skipping the event are French President Francois Hollande, British Prime Minister David Cameron and German President Joachim Gauck.   
Sochi organizers have declined to provide the names of the leaders coming to the opening ceremony or the countries they represent, but among them are U.N. Secretary-General Ban Ki-Moon plus the leaders of Greece, Bulgaria, Lebanon, Morocco, Armenia, Finland, Greece, Iceland, Latvia, Lithuania, Mongolia, Montenegro, Serbia, Tajikistan, and the monarchs of Monaco and Luxembourg.   
China's state-controlled media have barely mentioned the Russian law that bans pro-gay "propaganda" that could be accessible to minors. It was signed by Russian President Vladimir Putin in July.   
That's partly because of Beijing's strict insistence on non-interference in other countries' internal affairs, but also a reflection of relatively little public discourse on gay rights.  
In Japan, awareness about minority rights -- not just for gays, but also for migrant workers and ethnic Koreans -- lags behind the West, said Sonoko Kawakami, campaign manager for Amnesty International Japan.   
"The prime minister's actions reflect that," she said.   
The Foreign Ministry said Friday that "Japan pays close attention to the human right situation in Russia, but we do not link it with Prime Minister Abe's attendance at the Sochi Olympics." The statement added that the Japanese team will be buoyed by any encouraging words from their prime minister.