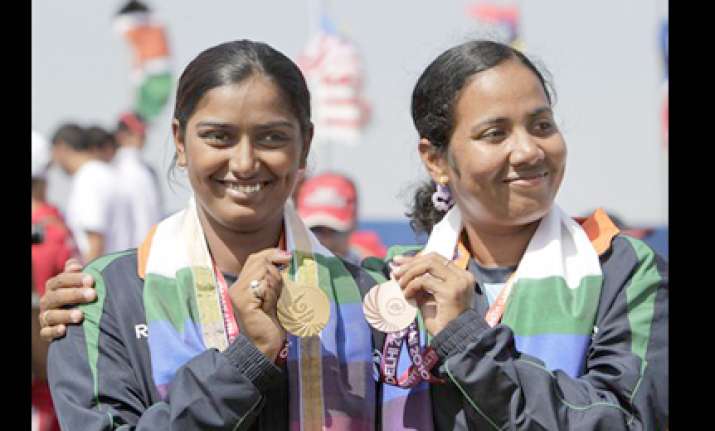 New Delhi, Oct 10: The fierce battle for gaining the second spot in the Commonwealth Games continued in earnest between India and England on the seventh day of competitions with the hosts edging in front by bagging four gold medals.
Teenage archer Deepika Kumari upset an Olympic bronze medallist to win the recurve gold, Harpreet Singh clinched the 25m centre fire pistol gold, archer Rahul Banerjee grabbed the men's individual recurve gold and world wrestling champion Sushil Kumar won the 66kg title by destroying all his rivals.
 Vijay Kumar bagged silver behind Harpreet, freestyle wrestler Anuj Kumar also got a silver in men's 84 kg, trap shooter Manavjit Singh Sandhu secured a bronze while Jayanta Talukdar finished third behind Banerjee.
 Sania Mirza and Rushmi Chakravarthi beat compatriots Nirupama Sanjeev and Poojashree Venkatesh to secure the women's doubles bronze in tennis and swell India's medal kitty.
Banerjee's sister Dola finished third in women's recurve and grappler Anil Kumar got the bronze in 55kg freestyle as India came up with another impressive display to jump over England and regain the second spot behind leaders Australia.
Asian silver medallist Jai Bhagwan (60kg) and nine-time national champion Dilbag Singh assured India of two more boxing medals but defending champion Akhil Kumar made a shock exit in the Commonwealth Games by advancing to the semifinals today.
 Jai, a Commonwealth Championship gold-medallist, blanked Waheed Sogbamu of Nigeria 10-0, while Dilbag (69 kg) thrashed Botswana's Moabi Mothiba 11-3 in while Akhil Kumar bowed out after losing to Olympic bronze-medallist Bruno Julie of Mauritius in the 56 kg quarterfinals.
The two boxers joined Amandeep Singh (49kg) and Suranjoy Singh (52kg), who won their quarterfinal bouts yesterday, in assuring themselves of their maiden CWG medals.
The haul of four gold, two silver and five bronze medals took the Indian tally to 28-19-22 while England were once again made to play catch-up with a haul of 25-45-29. Australia were far ahead with 57-33-35.
India were also just three gold medals short of overhauling their best-ever harvest of 30 at the Manchester Games in 2002 when three gold medals were awarded for each weight class, a practice that has been discontinued since.
The day opened with 17-year-old Ranchi-born Deepika, daughter of an autorickshaw owner, stunning 2004 Athens Olympics bronze medallist Alison James Williamson , showing amazing precision and steady nerves in windy conditions to win her second gold of the Games.
The Indian girl, the reigning world cadet champion, has already captured the team title with senior archer Dola Banerjee, who won the bronze today, and Bombayala Devi Laishram.
Incidentally Dola lost 2-6 to her English rival in the semis while Deepika outclassed Malaysia's Anbarasi Subramaniam to reach the final. Later Dola beat Anbarasi 6-2 in the bronze play-off.
Harpreet Singh clinched the gold in the individual men's 25m centre fire pistol as the hosts leapfrogged England and occupied the second spot in the medals table that they had relinquished last night.
It also helped the host nation open up a two-gold lead over England and a second spot in the table below Australia, who had a tally of 56 gold, with more in the offing later in the day.
 England - who stood second because of their larger number of silverware - had 24-43-29 to their credit last night while Australia were far ahead of the rest last evening with a seemingly unreachable 55-30-31.
 In a one-two finish for India, Harpreet and Vijay Kumar clinched the gold and silver medals respectively in men's individual 25-metre centrefire pistol.
 Indian marksmen thus continued with their medal-winning spree in the Delhi Games, while women shooters Suma Shirur and Kavitha Yadav failed to finish among the top three in 10m air rifle singles event at the Karni Singh Range.
 Harpreet shot 580 (288 in precision, 292 in rapid stage) to clinch his second gold of the Games, the first coming in the pairs event in which he partnered Vijay.
Vijay bagged the silver after prevailing in a shoot-off, where four shooters -  Australia's Michelangelo Giustiniano, England's Michael Gault, Singapore's Meng Lip Poh and Vijay - were tied for second spot at 574 points.
 Boxer Jai, a Commonwealth Championship gold-medallist, blanked Waheed Sogbamu of Nigeria 10-0 to assure himself of his maiden CWG medal along with Amandeep Singh (49kg) and Suranjoy Singh (52kg), who won their quarterfinal bouts yesterday.
 "A medal here would be life-changing for me especially if it ends up being a gold medal. I would get fame and there would be financial benefits as well," said an elated Jai, who had almost given up boxing before Olympic bronze medallist Vijender Singh motivated him to return to the camp in 2008.
"I dedicate this medal to Vijender because he was the one who motivated me," said the former national champion, who is close friend and room-mate of Vijender.
 However, it was heartbreak for the 29-year-old Akhil who lost 5-7 to Julie after a see-saw battle. Ironically, Akhil had beaten Julie in the 2006 Melbourne Games final.
 Akhil was the first Indian to take the ring today and after an exhausting pre-quarterfinal win last night over European silver-medallist Iain Weaver of England, the Indian seemed tired.
"A loss is a loss, I don't have anything to say. I had beaten this same guy in the 2006 CWG finals, he must have done something right to win today," said the feisty Haryana-boxer.
"I gave my best and don't think I could have done anything better. This is the way I fight," he added when asked whether his natural style of keeping a low guard cost him the bout.
Defending champion Geeta Rani failed to live upto her expectations as he finished a disappointing fourth in women's 75+kg category weightlifting competition.
 Geeta Rani, who won the gold in the same weight category four years ago in Melbourne, cut a sorry figure before her opponents -- Ele Opeloge of Samoa, who bagged the gold, silver medal winner Maryam Usman of Nigeria and Australia's Deborah Acason (bronze).
Sangrur-born Geeta Rani, who had won three silver medals in Asian Championship in 2004 and a bronze medal in 2003 Afro-Asian Games in Hyderabad, simply failed to match her own skills, ending with a combined lift of 235kg (100kg in snatch and 135 in clean and jerk).
In badminton, women's seed Saina Nehwal breezed through her match as India continued their rampaging run in the tournament with all the shuttlers in the singles and doubles category winning their respective matches.
 World number three Saina thrashed Sarah Thomas of Wales 21-5 21-9 to reach closer to her first Commonwealth games gold, while Melbourne bronze medallist Chetan Anand beat Nigerian Ola Fagbemi 21-12 21-6 in 21 minutes to stay on course of bettering his record at the sporting extravaganza.
Debutants P Kashyap and Aditi Mutatkar also stormed into the third round in the singles event with straight-game victories in their second round match. PTI