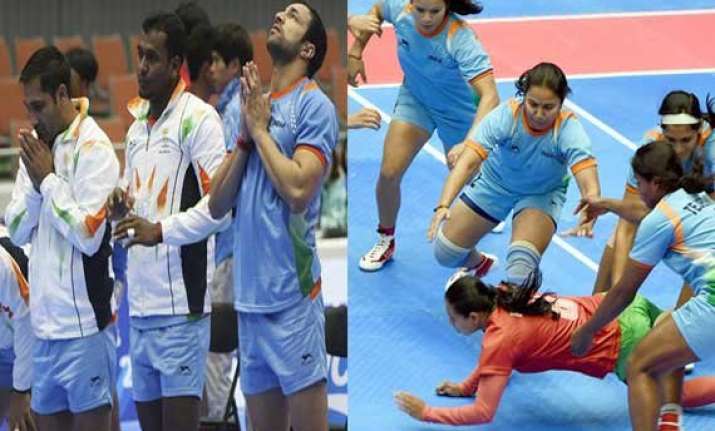 Incheon: Indian men's kabaddi team stayed on course for its seventh gold medal while the women are eying their second consecutive title as they booked final berths in the 17th Asian Games at the the Songdo Global University Gymnasium here Thursday.
Both the teams will be facing Iran in the final. The men thumped South Korea 36-25 while the women defeated Thailand 41-28 in their semi-finals.
In the men's semi-final, five-time world champions India stamped their authority in the second half, collecting 22 points, after taking a slender 14-12 lead at the end of the first 20 minutes. The hosts relied on athleticism and quick movement to match the Indians, who had topped the Group A to enter the last four battle.
The nimble-footed Koreans took the Indians by surprise and ousted 10 Indians as compared to seven managed by the visiting side, whose raiders collected seven bonus points.
After taking a two-point lead, India, with a starting line-up of skipper Rakesh Kumar, Jasvir Singh, Anup Kumar, Manjeet Chhillar, Navneet Gautam, Gurpreet Singh and Subramaniam Rajguru, displayed technical and tactical superiority and mounted pressure early from the second half.
While Rakesh, Anup and Jasvir made big impact in the attack, Gautam, Chhillar and Rajguru did their bit in foiling rival's raid.
India ousted 19 Koreans during raids and defence, which helped them earn two lona points and one bonus points. The hosts knocked out 10 Indians and got three points for touching the bonus line in the opposite end. In the end, class and quality helped India register a comprehensive 36-25 win.
Iran, the silver medallist in 2010 Guangzhou Asiad, beat Pakistan 25-14 to set up the final date with India.
In the women's semi-final between, the Indian team, with the starting line-up of Kavitha Selvaraj, Kavita Devi, V. Tejeswini Bai, Abhilasha Mhatre, Priyanka, Mamatha Poojari and Kishori Shinde, rode on its brilliant second half scoring 27 points.
Thailand, silver medallist in 2010 Asia Games, put up a spirited show against the defending champions, who started the game on a cautious note. In the first half, India ousted 12 Thais and collected two bonus points to score 14 points while their opponents also bagged 14 points by ousting seven Indian athletes and collected seven bonus points.
But India upped the ante in the second half and displayed an attacking game to completely dominate the Thai girls. India collected 19 points by touching or bundling out the rival players during raids or defending. With four lona points, the Indian team showed that it is the most formidable side and ready to defend its title.
Women's kabaddi was introduced in the Asian Games in 2010 and the men's team has swept all the gold medals ever since the sport was introduced in Asiad in 1990.