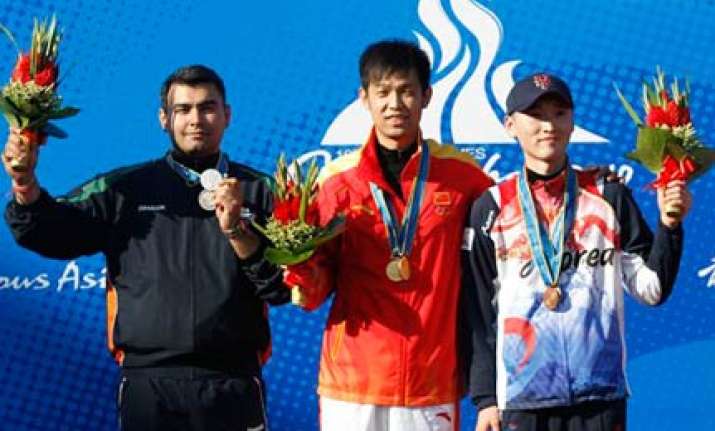 Guangzhou, Nov 13:  Gagan Narang stole the show from star shooter Abhinav Bindra by clinching the silver in the 10m air rifle individual event after the Olympic champion was controversially eliminated in the qualifying stage due to a "technical error" over a particular shot.
Narang, the hero of India's campaign at last month's Commonwealth Games with a four-gold feat, combined with Bindra and Sanjeev Rajput to provide the country with their first medal, a silver, in the team event behind champions China.
Narang, Bindra and Rajput combined to tally 1783, only a point behind China's gold-capturing 1784.
Narang, the lone Indian to qualify for the individual finals, matched China's 2004 Athens Olympic champion Zhu Qinan shot for shot before the latter captured the gold by shooting past his Indian Rival in the last three shots.
The 27-year-old settled for the silver after giving Qinan a run for his money in the ten-shot finals. He tallied of 700.7 points behind Qinan's gold-winning effort of 702. Korean Kim Kwon won the bronze with 700.0.
"I am extremely happy to have carried the Indian flag in the Opening Ceremony yesterday and I am very happy that we have won two silver medals. There are two more events left for me and I am hoping for the best," said Narang who was initially reluctant to be the country's flag-bearer as his event was scheduled early this morning.
Narang also said that the range was a bit difficult as the back-lighting was a hindrance.
"I have won a gold here in 2006 but that was a long time ago. The back lighting took time to get adjusted to and I had to use a blinder on my right eye to shoot which I had never done before," he said.
Narang also said that a one point lead going into the finals was difficult to bridge against a top shooter like Qinan.
 "Even if I had a 10.9 I would not have won it," he said.
But his feat was also overshadowed by a controversy involving Bindra.
 Indian coaches Sunny Thomas and Stanislaus Lapidus cried foul over Bindra's 42nd shot in the 60-shot preliminaries.
"The score given was a 7 but we were quite sure it was a 9. I went to Abhinav who also thought it was closer to 9 but was not sure about it. Had we protested and we would have lost two points as penalty. It was Abhinav's call who had the team's chances also in his mind," said Lapidus.
Thomas also said the score should have been a 9 and not 7.
"I shot a 9. I was shooting well till the incident happened. It was bad luck. But considering what happened my Performance was good," said Bindra who had beaten Qinan for the Beijing Games gold.
While Narang was one point behind the Chinese champion after the end of the qualifying stage,  Bindra shockingly did not qualify after the controversial incident which, Lapidus said, affected his concentration in the five-man shoot-off to pick the last three competitors for the final.
Bindra and Rajput were tied with three others to gain the last three places in the final that led to the Shoot off but both the Indians were eliminated.
While Bindra finished 10th with 593 points, Rajput signed off one rung higher with the same score and edged out his teammate 51.8 to 50.6
But other Indian shooters drew a blank with Omkar Singh ending seventh in the men's 50m pistol with 648.2 points after ending up fifth in the qualifiers. Compatriots Amanpreet Singh and Deepak Sharma ended up 16th and 28th respectively and were eliminated.
The Indian team also ended up fifth behind South Korea, China, Japan and Vietnam with 1646 points. This was the lone gold medal won out of six on offer today by any country other than China.
Veteran markswoman Suma Shirur shot one point better than her performance in last month's Delhi Commonwealth Games but still failed to qualify for the finals of the women's 10m air rifle event while her teammates Tejaswini Sawant and Kavita Yadav finished way off the mark.
Kavita, who finished 28th with 390 (96 98 98 98) had 27 perfect tens while Tejaswini, who is the world champion in 50m prone, also tallied the same with 24 Perfect tens to finish a distant 33rd from 54 shooters. She started brilliantly with a 99 but then fell off to bring off scores of 98 98 and 95.
Kavita told PTI that this was only her third event after she made her debut in the World Championships.
"This is only my third event after the world championship. I am improving," said the Bangalore-based Kavita who took to the sport four years ago.
Yi Siling led a Chinese 1-2 sweep of the individual medals that enabled the hosts to win the team gold with a tally of 1194, two better than Iran's silver winning aggregate and a whopping 12 Ahead of Uzbekistan who won the bronze.
The 21-year-old Yi qualified for the final by shooting just one point below the perfect world Record of 400. She accumulated 105.9 points in the individual finals for a gold-winning effort of 504.9.
Compatriot Wu Liaxi got the silver with 502.8 (398 in qualifiers with 38 perfect tens) and Malaysian woman Nur Suryani Taibi got the bronze with 501.8 (397 in qualifiers).
Omkar, who won the 50m pistol individual gold in CWG, entered the final by finishing fifth in the qualifiers with 557 points, nine adrift of leader Jin Jongoh of Korea who logged 566 with 12 perfect tens.
But in the finals, Omkar was very inconsistent and came out with a best effort of 9.8 in his third and sixth shots. His worst was 8.0 in the eighth. PTI