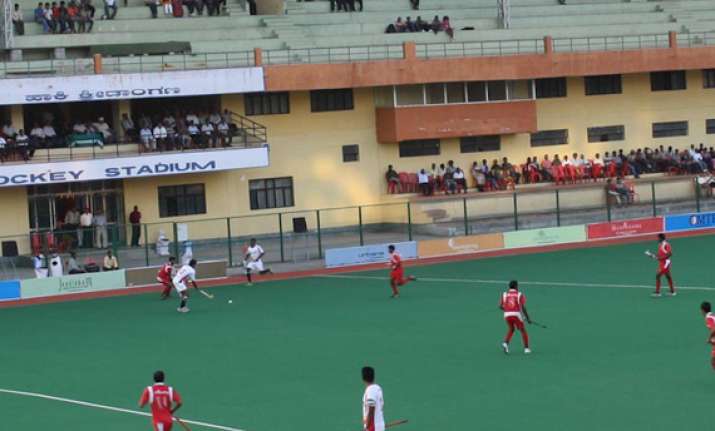 New Delhi, Nov 24: Punjab National Bank (PNB XI) advanced to the final of the ONGC Nehru hockey tournament for the first time ever after they got the better of Air India 4-2 here today.

PNB XI will take on ONGC who defeated Bharat Petroleum (BP) by an identical margin. Gurwinder Singh Chandi struck a hat-trick and Diwakar Ram converted a penalty corner for ONGC, while Hari Prasad and Jarnail struck for Bharat Petroleum.

PNB opened their scoring in the very first minute through Damandeep Singh, who took advantage of a loose ball, before Air India's Lalit Upadhaya restored parity in the 10th minute.

PNB went ahead again when Jatinder converted a penalty corner in the 21st minute, but four minutes later Air India cancelled out the lead with Rahul Shilpkar's penalty corner strike.

Naveen then gave PNB the edge two minutes before the half time.

In the second half, an impressive Ranjit Singh, who plays for the junior national team, scored a beautiful solo, dribbling past a few defenders and putting it past goalkeeper Adrian D'Souza. Air India then tightened their defence and did not Air India to launch another fightback.

In the second semi-final, Chandi first scored in the 24th minute. The second was a reverse hit by Chandi from the top of the circle in the second half (36th minute), and the third came four minutes later.

BP reduced the margin when Hari Prasad scored through a pass from Jarnail. Diwakar Ram converted a penalty corner to make it 3-1 for ONGC. Jarnail then found the range in the 67th minute.