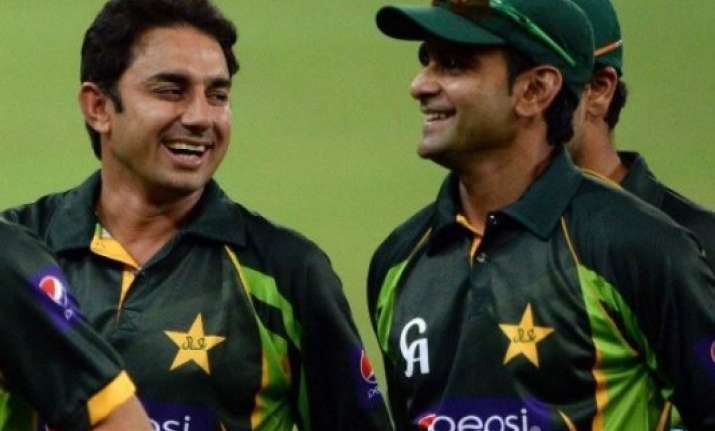 Lahore: Pakistan Cricket Board is in a delimma weather or not keep key off-spinner Saeed Ajmal and all-rounder Mohammad Hafeez in the final list for World Cup as their bowling action has been declared illegal by the International Cricket Council (ICC).
The confusion prevails in the PCB at a time when the deadline for submitting the World Cup squad is just 13 days away (Jan 7, 2015).
The selection committee is not clear about the availability of Both have to appear for biomechanics tests in connection with their action in India but ironically the PCB is still waiting for players' visas.
On the other hand, some players are on the injury list making selection affairs in connection with the upcoming World Cup more complicated.
Pakistan Cricket Board (PCB) chairman Shaharyar Khan has also been in a dilemma whether to retain chief selector Moin Khan as manager.
The issue currently proving a stumbling block in affairs of the PCB particularly in the lead-up to the World Cup is the ongoing stalemate over the double posts of former wicket-keeper Moin Khan who has ensconced himself on the seat of manager as well as that of national chief selector.
The issue, particularly Moin's case, assumes great importance in the wake of PCB chairman's declared policy of restricting Board officials from holding more than one jobs. However, decision regarding Moin's dual job was delayed by Shaharyar until the end of the recently-concluded New Zealand series.
With the series against New Zealand now over putting Moin's dual job once again in the limelight, it has come to fore that the impasse has got worsened as the former wicket-keeper has threatened the PCB that if he is not retained as manager he will also resign from the post of chief selector.
Anyhow, if Shaharyar implements his single job policy, Moin's resignation as chief selector at this stage will trigger a controversy as a new chief selector may not be able to pick the World Cup squad from the 30 probables who have already been picked by the incumbent chief selector.
According to latest reports, the PCB has delayed the matter of appointing manager till Jan 7 when the World Cup squad will be announced to meet the ICC deadline.